RETAILERS!
WELCOME TO HEROIC DISTRIBUTION

Warning: date(): It is not safe to rely on the system's timezone settings. You are *required* to use the date.timezone setting or the date_default_timezone_set() function. In case you used any of those methods and you are still getting this warning, you most likely misspelled the timezone identifier. We selected the timezone 'UTC' for now, but please set date.timezone to select your timezone. in /home/dmallone/public_html/heroicdist/nowavailable.php on line 37

Warning: date(): It is not safe to rely on the system's timezone settings. You are *required* to use the date.timezone setting or the date_default_timezone_set() function. In case you used any of those methods and you are still getting this warning, you most likely misspelled the timezone identifier. We selected the timezone 'UTC' for now, but please set date.timezone to select your timezone. in /home/dmallone/public_html/heroicdist/nowavailable.php on line 38

Warning: date(): It is not safe to rely on the system's timezone settings. You are *required* to use the date.timezone setting or the date_default_timezone_set() function. In case you used any of those methods and you are still getting this warning, you most likely misspelled the timezone identifier. We selected the timezone 'UTC' for now, but please set date.timezone to select your timezone. in /home/dmallone/public_html/heroicdist/nowavailable.php on line 39

Warning: date(): It is not safe to rely on the system's timezone settings. You are *required* to use the date.timezone setting or the date_default_timezone_set() function. In case you used any of those methods and you are still getting this warning, you most likely misspelled the timezone identifier. We selected the timezone 'UTC' for now, but please set date.timezone to select your timezone. in /home/dmallone/public_html/heroicdist/nowavailable.php on line 40

Warning: date(): It is not safe to rely on the system's timezone settings. You are *required* to use the date.timezone setting or the date_default_timezone_set() function. In case you used any of those methods and you are still getting this warning, you most likely misspelled the timezone identifier. We selected the timezone 'UTC' for now, but please set date.timezone to select your timezone. in /home/dmallone/public_html/heroicdist/nowavailable.php on line 41

Warning: date(): It is not safe to rely on the system's timezone settings. You are *required* to use the date.timezone setting or the date_default_timezone_set() function. In case you used any of those methods and you are still getting this warning, you most likely misspelled the timezone identifier. We selected the timezone 'UTC' for now, but please set date.timezone to select your timezone. in /home/dmallone/public_html/heroicdist/nowavailable.php on line 42

Warning: date(): It is not safe to rely on the system's timezone settings. You are *required* to use the date.timezone setting or the date_default_timezone_set() function. In case you used any of those methods and you are still getting this warning, you most likely misspelled the timezone identifier. We selected the timezone 'UTC' for now, but please set date.timezone to select your timezone. in /home/dmallone/public_html/heroicdist/nowavailable.php on line 43

Warning: date(): It is not safe to rely on the system's timezone settings. You are *required* to use the date.timezone setting or the date_default_timezone_set() function. In case you used any of those methods and you are still getting this warning, you most likely misspelled the timezone identifier. We selected the timezone 'UTC' for now, but please set date.timezone to select your timezone. in /home/dmallone/public_html/heroicdist/nowavailable.php on line 44

---
NOW AVAILABLE
Warning: date(): It is not safe to rely on the system's timezone settings. You are *required* to use the date.timezone setting or the date_default_timezone_set() function. In case you used any of those methods and you are still getting this warning, you most likely misspelled the timezone identifier. We selected the timezone 'UTC' for now, but please set date.timezone to select your timezone. in /home/dmallone/public_html/heroicdist/nowavailable.php on line 68

---
No Titles Shipping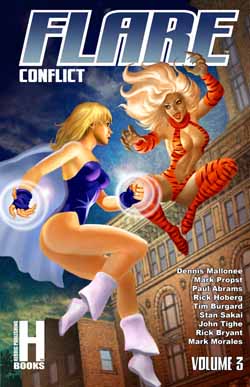 COMING SOON!
A BRAND-NEW
FLARE TRADE PAPERBACK!

Classic early adventures of comics' shining goddess of the light are about to be collected in this brand-new trade paperbacks from Heroic Publishing.

FLARE: CONFLICT ships in November of 2016. It's a 128-page volume retailing at #27.50, featuring her adventures from FLARE v2 #5-7 and TIGRESS #1-2.

Advance orders for this upcoming trade paperback (and other Heroic Publishing releases) can be placed now! Just follow these simple steps:

STEP 1:
REGISTER FOR YOUR
FREE RETAIL ACCOUNT!

STEP 2:
PLACE YOUR ORDER!

That's all there is to it! Visit our trade paperback page for the trades, and our advance order page for our comic book titles, and place your order today!

---
FREE SHIPPING!
IMMEDIATE SHIPPING!

You can also get free shipping on Heroic Publishing titles just by placing a standing order for 5 or more copies of each of our upcoming titles!
Get in touch with us via our contact page, and let us help you make the necessary arrangements today!


---
Now you don't even need to register to place your first order for upcoming Heroic titles.

Even if you don't yet have an account, just visit our advance order page and use our new interactive form to make your first purchase through Heroic Distribution.

---
Of course, if you do have an account, please log in before placing your order.

Or, if you prefer to order via mail
download this month's PDF order form.
---
Need data? Download pipe-delimited CSV files for Heroic Publishing's back-issue list here, and for upcoming titles here.
---
Heroic Distribution is Heroic Publishing's wholesale distribution service for comics specialty shops, bookstores, and online retailers. The ultimate goal of Heroic Distribution is to build a full-fledged marketplace in which retailers and product suppliers can deal directly with each other.

If you're a comic book retailer with a resale number valid for doing business in your state or province, register now, and get access to product from these fine comic book publishers and manufacturers of comic book related merchandise.

If you're a comic book fan who would like to place an order, please visit our Back Issue page.