HERE'S WHAT'S ON THE
BLACK ENCHANTRESS'S
DRAWING BOARD
BLACK ENCHANTRESS #6
"Assault on the Avery Mansion"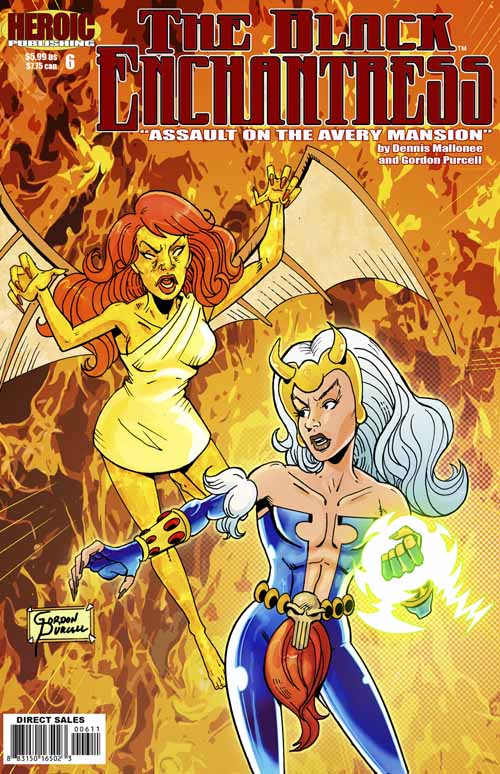 We're looking for contributions totaling $7500 to bring this issue to print. Thus far we have $763. Your contribution will be most welcome.
---
Every contribution made from this page will go directly
toward the production of Black Enchantress #6.
Support this project and reserve your reward today!
You Can Contribute to This Project!
The 6th issue of BLACK ENCHANTRESS will feature a booklength 24-page adventure by Dannis Mallonee and Gordon Purcell that pits our wicked little WitchGirl against the combined power of two of her greatest enemies. The mysterious MISTER MONOCLE and the hell-goddess LILITU are back, staging an "Assault on the Avery Mansion," with a small army of demon-possessed college students on their side.

And some of those college students are people Andrea just might think of as friends!

Can the Black Enchantress put an end to this home invasion without doing harm to the innocent? Or does she even care whether or not some of them get hurt?

We're looking to you to help us find the answers to those questions, and bring this project to completion. The story has been written, and Gordon is eager to start on the artwork. Every dollar you contribute will bring us that much closer to getting this issue into print.

YES! Please reserve for me an autographed copy of Black Enchantress #6. I am contributing $15.00, plus $4.00 in the US to help cover shipping costs (international shipping will vary). I understand that this issue is not yet complete, and that my copy will not ship until after this issue is received from the printer.

I'd like a copy of Black Enchantress #6 without an autograph, and am contributing $5.00 (plus $4.00 in the US to help cover shipping).


You can also contribute by ordering any or all of these great issues of Black Enchantress.
These issues will ship immediately upon recipt of your contribution.

Please note that for contributions in the US there will be a $4.00 charge to help pay the cost of shipping.
Shipping charges for international delivery will vary.


Black Enchantress #1
$5.00

Black Enchantress #2
$5.00

Black Enchantress #3
$5.00

Black Enchantress #4
$5.00

Black Enchantress #5
$5.00