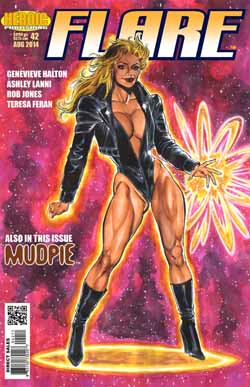 NOW ON SALE!
FLARE #42
First, it's a brand-new blast from Flare's past as Genevieve Halton, Ashley Lanni, and Rob Jones take our glittering heroine home to "Past Haunts" in Brazil, for a previously untold tale from her earliest days as an international fashion supermodel.

Then, get ready for a special treat as Flare brings you an adventure of Dolf as written, drawn, lettered, and colored by herself!

Also in this issue, the ecological avenger MUDPIE takes on the explosive BLONDE BOMBSHELL in "Versus the Blonde Bombshell," by Dennis Mallonee and Jim Gettman, with artwork by Jim Hall and John Flaherty, featuring a special guest appearances by FLARE and the invincible THUGMASTER!

Cover by Duval Stowers and Mark Beachum


---
AND IN MONTHS TO COME
There are brand-new FLARE adventures on the horizon, as our shining goddess of light returns to a regular bimonthly publication schedule toward the end of summer, taking on the threats of the sinister Steel Shrike and the insidious Brother Basilisk.

Flare will also play a role in "The Quest for Lady Arcane." This epic nine-part WitchGirls crossover is tentatively scheduled to appear in Black Enchantress #5-6, Lady Arcane #5-6, WitchGirls Inc #11-12, Heroic Spotlight #25, and Flare #46-47.

Starting in Flare #48, get ready for "The Challenge of the Gods," as our glittering goddess of light gets called upon to prove her right to rule as queen of Olympus in a multi-part saga that crosses over into issues of Black Enchantress, Heroic Spotlight, Champions, WitchGirls Inc, and Sensational G-Girl, and concludes in Flare's super-sized 50th issue!

Then look for a two-part crossover adventure with the LIBERTY GIRL in the pages of Flare #51 and Liberty Girl #8.

Still not enough? Sometime in 2017, look for the return of brand-new issues of FLARE ADVENTURES.

And don't forget that Flare will also be appearing regularly in League of Champions, and making guest appearances across the entire line of Heroic Publishing titles.