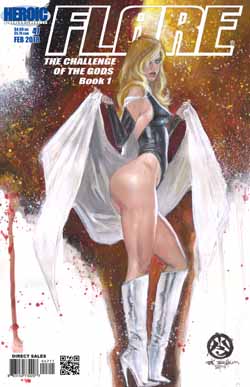 NOW ON SALE!
FLARE #47
THE CHALLENGE OF THE GODS

The goddesses of Olympus have rebelled against the rule of Zeus! And the challenge they face will determine who will become queen of the gods.

This is Book 1 in a thirteen part epic scheduled to appear next year across four different Heroic Publishing titles.

It's a booklength FLARE adventures by Dennis Mallonee and Giancarlo Caracuzzo.

This issue is complete and ready to go to the printer, but Flare can still use your help to cover printing expenses. From now through November 3, please click on the Kickstarter link above, choose a reward, and make your pledge.

Cover by Mark Beachum


---
FLARE WALLPAPER BY RIKKUSGUARDIAN
http://rikkusguardian.deviantart.com/
http://rikkusguardian.deviantart.com/art/Flare-Wallpaper-1-499799922
---
AND IN MONTHS TO COME
There are brand-new FLARE adventures on the horizon, as our shining goddess of light returns to a regular bimonthly publication schedule in 2016, taking on the threats of the sinister Steel Shrike and the insidious Brother Basilisk.

Starting in Flare #46, get ready for "The Challenge of the Gods," as our glittering goddess of light gets called upon to prove her right to rule as queen of Olympus in a multi-part saga that will cross over into issues of Black Enchantress, Heroic Spotlight, Sparkplug, and Champions.

Then look for a two-part crossover adventure with the LIBERTY GIRL in the pages of Flare #49 and Liberty Girl #7.

Still not enough? Flare will also play a role in "The Quest for Lady Arcane." This epic, long-awaited eight-part adventure will appear simultaneously in issues of Black Enchantress, Flare, Heroic Spotlight, Lady Arcane, and WitchGirls Inc.

And don't forget that Flare will also be appearing regularly in League of Champions, and making guest appearances across the entire line of Heroic Publishing titles.