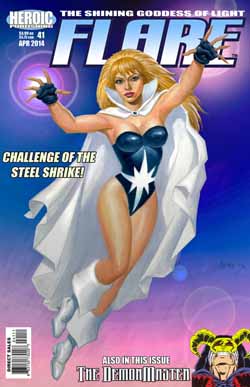 COMING IN MARCH!
FLARE #41
When a Syrian diplomat is killed on American soil, FLARE is called upon to bring the assassin to justice. "The Challenge of the Steel Shrike" is an all-new adventure by Dennis Mallonee and Mark Propst that ties in directly with events in upcoming issues of the League of Champions.

Also in this issue: Our SENSATIONAL G-GIRL tie-in continues as the final fate of FLARE's wicked shape-shifting brother, Philip Gottmann is revealed in Chapter Two of "The Fate of the Demonmaster," another all-new adventure by Dennis Mallonee, Denny Fincke, and J. Adam Walters.

Cover by Paul Abrams


LOOK FOR THESE GREAT NEW ISSUES OF FLARE!
COMING YOUR WAY SOON!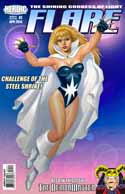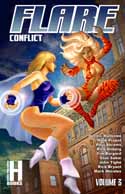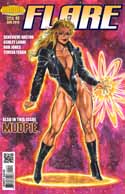 ---
AND IN MONTHS TO COME
There are brand-new FLARE adventures on the horizon, as our shining goddess of light returns to a regular bimonthly publication schedule toward the end of 2014, taking on the threats of the sinister Steel Shrike and the insidious Brother Basilisk.

Flare will also play a role in "The Quest for Lady Arcane." This epic eight-part WitchGirls crossover is tentatively scheduled to appear in WitchGirls Inc #13-14, Black Enchantress #4-5, Lady Arcane #5-6, and Flare #45-46.

Starting in Flare #47, get ready for "The Challenge of the Gods," as our glittering goddess of light gets called upon to prove her right to rule as queen of Olympus in a multi-part saga that crosses over into several other Heroic Publishing titles, leading up to her super-sized 50th issue!

Then look for a two-part crossover adventure with the LIBERTY GIRL in the pages of Liberty Girl #7 and Flare #51.

Still not enough? Sometime in 2015, look for the return of FLARE ADVENTURES and FLARE FIRST EDITION.

And don't forget that Flare will also be appearing regularly in League of Champions, and making a few guest appearances across the entire line of Heroic Publishing titles.