HERE'S WHAT'S ON
ICICLE'S DRAWING BOARD
ICICLE #9
ICICLE: THE MOVIE CONTINUES!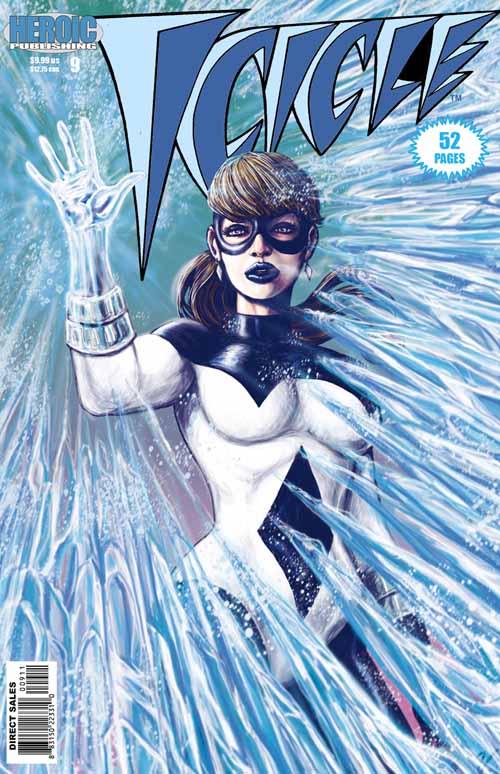 We're looking for contributions totaling $6000 to bring this issue to print. As of February 28, we have $121. Your contribution will be most welcome.
---
Every contribution made from this page will go directly
toward the production of Icicle #9.
Support this project, claim your reward today,
and see your name included in our list of contributors!
Special thanks to these contributors
AARON RESTANTE for his contribution of $25
ROBERT JORDAN for his contribution of $5
KARL MAURER for his contribution of $15
LAWRENCE BELL for his contribution of $5
ROBERT ORME for his contribution of $15
You Can Help Us
Fund Issue #9!
The 9th issue of Icicle will feature the 24-page penultimate chapter of "Icicle: The Movie," by Dennis Mallonee, Dell Barras, and Lou Manna, with a gorgeous cover by Ulderico Fioretti.

As our story resumes, the movie script Icicle is writing about herself is almost ready to go. There are just a few details to iron out. But the devil is always in the details, and there will be a few unexpected complications.

The script for this tale is complete, but the artwork isn't. We hope you'll agree that this project is worthy of support. We are looking to you to help us bring Icicle #9 to completion. Every dollar you contribute will bring us that much closer to getting this issue into print.

YES! Please reserve for me an autographed copy of Icicle #9. I am contributing $10.00 (plus $5.00 in the US to help cover shipping costs; please inquire about international shipping). I understand that this issue is not yet complete, and that my copy will not ship until after this issue is received from the printer.

I'd like a copy of Icicle #9 without an autograph, and am contributing $5.00 (plus $5.00 in the US to help cover shipping).


You can also contribute by ordering any or all of these great issues of Icicle.
These issues will ship immediately upon recipt of your contribution.

Please note that for contributions in the US there will be a $5.00 charge to help pay the cost of shipping.
Shipping charges for international delivery will vary.


Original Issue #1
$7.50

Original B&W Issue #2
$15.00

Original B&W Issue #3
$15.00

Original B&W Issue #4
$7.50

Original B&W Issue #5
$7.50

New Color Issue #1
$5.00

New Color Issue #2
$5.00


---

New Color Issue #3
$5.00

New Color Issue #4
$5.00

New Color Issue #5
$5.00

Issue #6
$5.00

Issue #7
$5.00

Issue #8
$5.00