THE PAST LIVES AGAIN!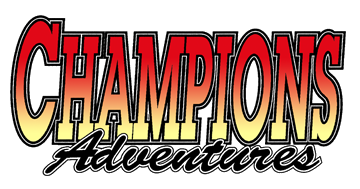 Find out what happened to FLARE and the LEAGUE OF CHAMPIONS in the "missing years" from the late 1990s to the early 2000s. Each issue of CHAMPIONS ADVENTURES features classic tales along with all-new adventures leading ultimately to the untold saga of the League of Enemies, the secrets behind the disbanding of the League of Champions, and the story of how Flare came to live for a time among the gods of Olympus.
---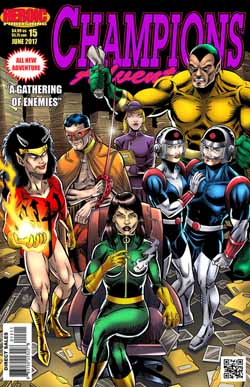 NOW ON SALE! CHAMPIONS ADVENTURES #15

There are three all-new tales in this 15th issue of Champions Adventures!

First, learn the secret of how the Champions' greatest foes were recruited into the Madame Synn's League of Enemies in "A Gathering of Enemies," by Dennis Mallonee and Luis Rivera.

Then Mallonee and Rivera bring you a "Sitdown" between Psyche and Lady Arcane. The topic of discussion: The Huntsman.

Finally, when Flare, Psyche, and Icicle agreed to get together for a slumber party at Champions HQ, they certainly weren't expecting "A Visit from Red Rapier," by Dennis Mallonee and Leo Cordeiro.

Cover by Luis Rivera

Place your order today, and get copies of Champions Adventures #15 at $4.99 each, with a flat $4.00 shipping and handling no matter how many copies you purchase. (Stated shipping is to US addresses only; international orders please inquire.)

---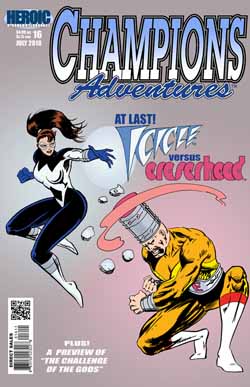 IN JULY oF 2018! CHAMPIONS ADVENTURES #16

It's an all-new booklength Champions Adventure, featuring the origin of the gallant Red Rapier!

Cover by Paul Abrams


---
YOU CAN ALSO ORDER THESE GREAT ISSUES!
Issue #1
$4.99


Issue #2
$4.99


Issue #3
$4.99


Issue #4
$4.99


Issue #5
$4.99



---

Issue #6
$4.99


Issue #7
$4.99


Issue #8
$4.99


Issue #9
$4.99


Issue #10
$4.99



---

Issue #11
$4.99


Issue #12
$4.99


Issue #13
$4.99


Issue #14
$4.99


---
Are there untold adventures of the League of Champions that you want to see?

Not every adventure of our heroes has made it into the comics. There are many tales that have yet to be told, and many secrets remaining to be revealed.

Let us know what Champions Adventures you want to find out about! Your questions and comments are welcome.

Watch this space! Because we'll be posting the best of your inquiries
(along with responses) right here!


---