VISIT THE CHAMPIONS HOME PAGE
---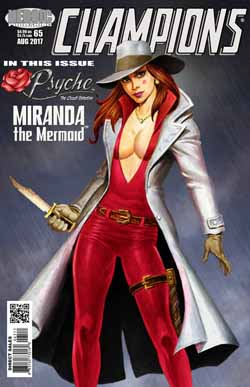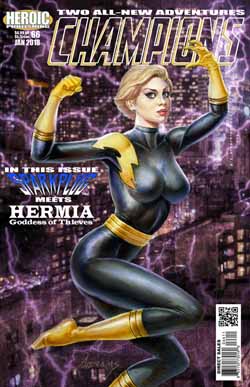 WHAT'S ON TAP!



In Champions #65, now on sale, enjoy two classic adventures starring PSYCHE the occult detective, including "The Ghost of Chance" and "Mermaid of the Potomac."

And in Champions #66, also now on sale, Sparkplug stars in two brand-new adventures! First, our electric heroine meets Hermia goddess of thieves. Then she's in for quite a surprise when she finds out just who it is who's asking her out on a date.
---
What characters do you want to see featured in CHAMPIONS?

Thanks to your support, our entire quartet of quarrelsome heroines will soon be featured in their own regularly published comics magazines. So the question now becomes: Who should take their place in the pages of CHAMPIONS? Do you have a favorite character that you'd like to see featured prominently? Let us know! Your questions and comments are welcome.

Watch this space! Because we'll be posting the best of your inquiries
(along with responses) right here!


---