LADY ARCANE WILL RETURN!
---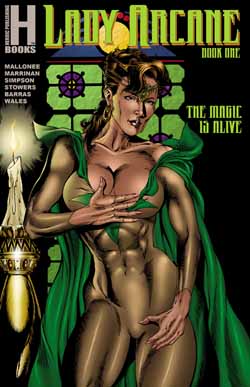 NOW ON SALE!
LADY ARCANE: THE MAGIC IS ALIVE

Begin the Quest for Lady Arcane with this trade paperback collection of her earliest solo adventures!

From the pages of Champions v2 #9, Flare #2, Flare v2 #1, 3, and 5, and Lady Arcane #1, these are Donnah Victoria Hannah's most sought-after tales, featuring guest appearances by Flare, Doctor Arcane, and the ever-naughty Black Enchantress, with stories by Dennis Mallonee, artwork by Chris Marrinan, Dell Barras, Howard Simpson, and Duval Stowers!

Cover by Duval Stowers
---
ALSO NOW ON SALE! LADY ARCANE COLOR EDITIONS!
All four issues of Lady Arcane's original comic book series are now available
in brand-new color editions! Enjoy the early adventures
of our sultry mistress of the occult. Place your order today!
LADY ARCANE #1

LADY ARCANE #2

LADY ARCANE #3

LADY ARCANE #4

---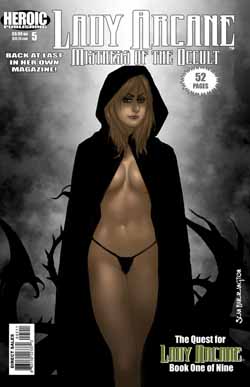 COMING SOON: LADY ARCANE #5

Heroic Publishing's mistress of the occult is scheduled to return to her own comics magazine as part of the "Quest for Lady Arcane" storyline running simultaneously in WitchGirls Inc, Flare, Black Enchantress, and Lady Arcane.

Cover by Paul Abrams.