HERE'S WHAT'S ON THE
HEROIC SPOTLIGHT
DRAWING BOARD
HEROIC SPOTLIGHT #27
The Challenge of the Gods, Book Two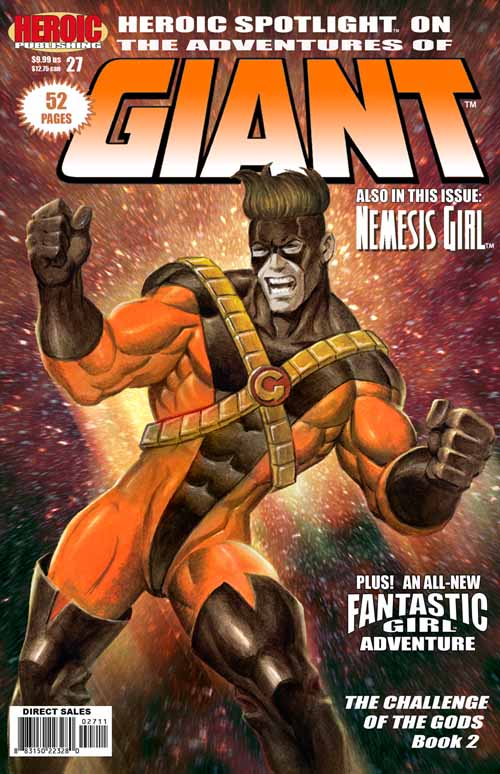 We're looking for contributions totaling $6000 to bring this issue to print. As of August 31, we have $992. Your contribution will be most welcome.
---
Every contribution made from this page will go directly
toward the production of Heroic Spotlight #27.
Support this project, claim your reward today,
and see your name included in our list of contributors!
Special thanks to these contributors
FLARE FANS who contributed an extra $271 above and beyond what we were asking for our Flare #48 Kickstarter
STEVE ZINK for a contribution of $9
ROBERT ORME for a contribution of $5
LAWRENCE BELL for a contribution of $5
KENNETH HALFPENNY for a contribution of $5
Support this project and reserve your reward today!
---
Let's Fund This Too!
Here's what we're planning for the 27th issue of Heroic Spotlight.

It's Book Two of the "Challenge of the Gods" storyline that began in Flare #47. In this issue, it's time for GIANT, NEMESIS GIRL, and the FANTASTIC GIRL to get involved in the Challenge. First, Giant and the Nemesis Girl return in an all-new adventure to face down ARES, the Olympian God of War, in an adventure that also features the debut of HERO CAT. Then the Fantastic Girl comes to face-to-face with the mysterious Mister Jupiter.

The scripts for these tales are complete, but no artwork has yet been done. We have in mind Chris Marrinan for the story that features Giant and the Nemesis Girl, and Francesco Gerbino for the Fantastic Girl tale. We're looking to you to help us bring this project to completion. Every dollar you contribute will bring us that much closer to getting this issue into print.

YES! Please reserve for me a copy of Heroic Spotlight #27. I am contributing $5.00, plus $5.00 in the US to help cover shipping costs (international shipping will vary). I understand that this issue is not yet complete, and that my copy will not ship until after this issue is received from the printer.



You can also add to your reward any or all of these great issues of Heroic Spotlight.
These issues will ship immediately upon recipt of your donation.

Please note that for donations in the US there will be a $5.00 charge to help pay the cost of shipping.
Shipping charges for international delivery will vary.


Issue #1
$5.00

Issue #2
$5.00

Issue #3
$5.00

Issue #4
$5.00

Issue #5
$5.00

Issue #6
$5.00

Issue #7
$5.00


---

Issue #8
$5.00

Issue #9
$5.00

Issue #10
$5.00

Issue #11
$5.00

Issue #12
$5.00

Issue #13
$5.00

Issue #14
$5.00


---

Issue #15
$5.00

Issue #16
$5.00

Issue #17
$5.00

Issue #18
$5.00

Issue #19
$5.00

Issue #20
$5.00

Issue #21
$5.00


---

Issue #22
$5.00

Issue #23
$5.00

Issue #24
$5.00

Issue #25
$5.00

Issue #26
$5.00

FOR A CONTRIBUTION OF $125
ADD ALL 26 OF THESE ISSUES OF
HEROIC SPOTLIGHT
TO YOUR REWARD