LANA/FLARE ANNIVERSARY EDITION
IT'S ALMOST READY!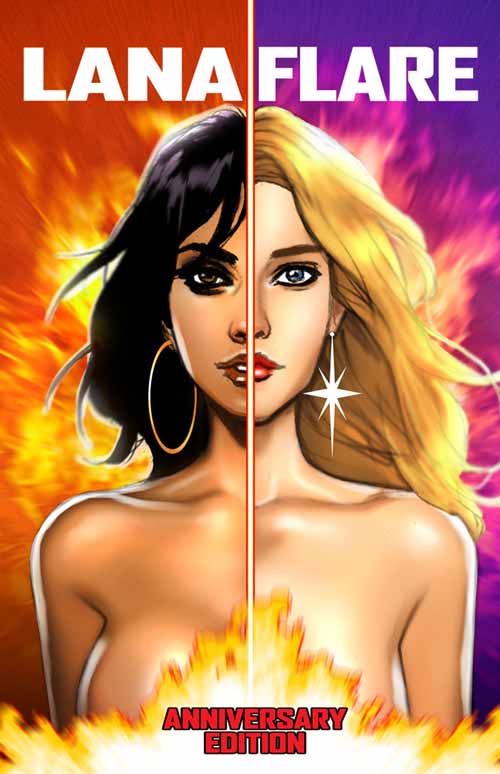 We're looking for contributions totaling $6000 to bring to print the 10th anniversary edition of Flare's classic crossover adventure with LANA THE SPY. As of August 31, contributions total $4395.
Special thanks to these contributors
LAWRENCE BELL for his contribution of $360
BRIAN DIEHL for his contribution of $74
Support this project and reserve your reward today!
WE'RE DOING IT!
SEAN HARRINGTON has almost finished our special, expanded ANNIVERSARY EDITION of the LANA/FLARE crossover, featuring all the original material, plus brand-new pinup pages, a brand-new FLARE/LANA story, and a whole slew of variant covers!

And you can help support this project by getting your copy of the latest FLARE trade paperback!

FLARE Volume 8: Truth or Dare stars comics' shining goddess of light in a 160-page collection of her adventures from FLARE #36-40, and FLARE ADVENTURES #19 and #26. In particular, these adventures include stories by SEAN HARRINGTON, in which Flare teams up with the naughty BLACK ENCHANTRESS, and the notorious LANA THE SPY!

YES! Please send me a copy of the latest FLARE trade paperback. I am contributing $37.50, plus $5.00 in the US to help cover shipping costs (international shipping will vary).

---
WOO-HOO! WE HAVE A FEW PAGES OF ARTWORK FROM SEAN'S NEW FLARE/LANA STORY!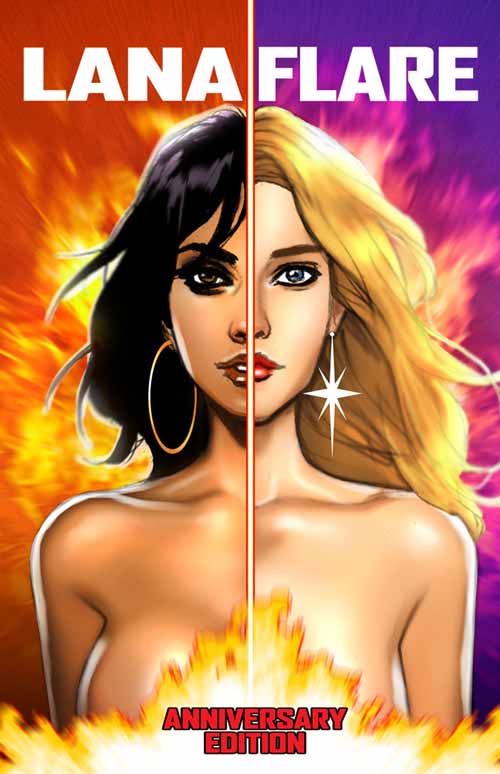 You can also add to your reward any or all of these great issues of Flare.
These issues will ship immediately upon recipt of your donation.

Please note that for donations in the US there will be a $5.00 charge to help pay the cost of shipping.
Shipping charges for international delivery will vary.


Issue #1
$20.00

Issue #2
$10.00

Issue #3
$10.00

Issue #4
$10.00

Issue #5
$10.00

Issue #6
$10.00

Issue #7
$10.00


---

Issue #8
$10.00

Issue #9
$15.00

Issue #10
$10.00

Issue #11
SOLD OUT

NOT AVAILABLE
Issue #12
$7.50

Issue #13
$7.50

Issue #14
$7.50


---

Issue #15
$7.50

Issue #16
$10.00

Issue #17
$7.50

Issue #18
$7.50

Issue #19
$7.50

Issue #20
$5.00

Issue #21
$5.00


---

Issue #22
$5.00


Issue #23
$5.00

Issue #24
$5.00

Issue #25
$5.00

Issue #26
$5.00

Issue #27
$5.00

Issue #28
$5.00


---

Issue #29
$5.00

Issue #30
$5.00

Issue #31
$5.00

Issue #32
$5.00

Issue #33
$10.00

Issue #34
$5.00

Issue #35
$5.00


---

Issue #36
$5.00

Issue #37
$5.00

Issue #38
$5.00

Issue #39
$7.50

Issue #40
$5.00

Issue #41
$5.00

Issue #42
$5.00


---

Issue #43
$5.00

Issue #44
$5.00

Issue #45
$5.00

Issue #46
$5.00

Issue #47
$5.00

Issue #48
$5.00


---

Annual #1
SOLD OUT

NOT AVAILABLE
Annual #2
$7.50

Annual #3
$7.50

FOR A CONTRIBUTION
OF $350 ADD ALL 49
OF THESE AVAILABLE
ISSUES OF FLARE
TO YOUR REWARD



---


ALSO AVAILABLE: ANY OR ALL OF THE EXISTING FLARE TRADE PAPERBACKS
Volume 1
$23.50

Volume 2
$23.50

Volume 3
$27.50

Volume 4
$27.50

Volume 5
$37.50

Volume 6
$34.50

Volume 7
$34.50