HERE'S WHAT'S ON THE
HUNTSMAN'S DRAWING BOARD
HUNTSMAN #4
The Case of the Living Dead Man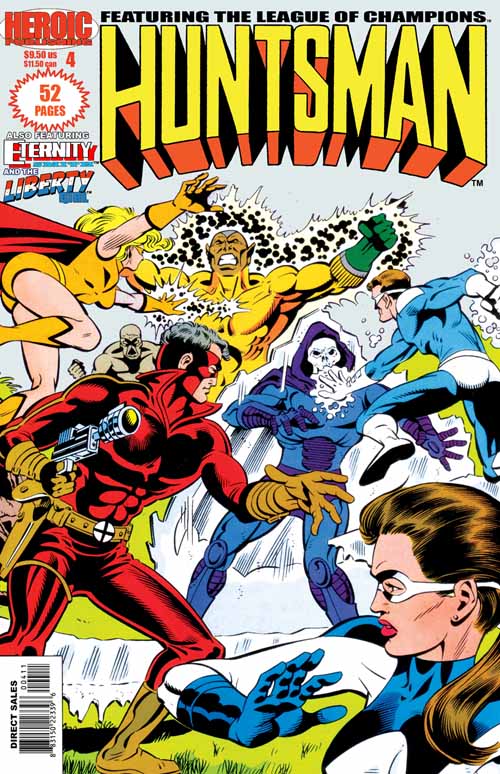 We're looking for contributions totaling $1000 to bring this issue to print. As of December 31, we have $336. Your contribution will be most welcome.
---
Every contribution made from this page will go directly
toward the production of Huntsman #4.
Special thanks to these contributors
LAWRENCE BELL for his contribution of $10
Support this project and reserve your reward today!
Let's Get This Funded!
Concluding in this issue, for the first time in color, the HUNTSMAN teams up with PSYCHE in a 28-page tale to solve "The Case of the Living Dead Man."

Also in this issue, the classic Eternity Smith adventure, "Nursury."

This super-sized 48-page issue is almost ready to go to press. All that remains to be done is color work on the Huntsman/Psyche story. We're looking to you to help us bring this project to completion. Every dollar you contribute will bring us that much closer to getting this issue into print.

YES! Please reserve for me a copy of the super-sized Huntsman #4. I am contributing $9.50, plus $5.00 in the US to help cover shipping costs (international shipping will vary). I understand that this issue is not yet complete, and that my copy will not ship until after this issue is received from the printer.



You can also add to your reward any or all of these great issues of Huntsman, Psyche, and Eternity Smith.
These issues will ship immediately upon recipt of your donation.

Please note that for donations in the US there will be a $5.00 charge to help pay the cost of shipping.
Shipping charges for international delivery will vary.


Huntsman #1
$9.50

Huntsman #2
$9.50

Huntsman #3
$9.50

Psyche #1
$9.50

Psyche #2
$9.50

Psyche #3
$9.50

Psyche #4
$9.50


---

Psyche #5
$9.50

Eternity Smith #1
$7.50

Eternity Smith #2
$7.50

Eternity Smith #3
$7.50

Eternity Smith #4
$7.50

Eternity Smith #5
$7.50

Eternity Smith #6
$7.50


---

Eternity Smith #7
$7.50

Eternity Smith #8
$7.50

Eternity Smith #9
$7.50

Eternity Smith #10
$7.50

Eternity Smith #11
$7.50

Eternity Smith #12
$7.50

Eternity Smith #13
$7.50


---

Eternity Smith #14
$7.50