VISIT FLARE'S HOME PAGE
---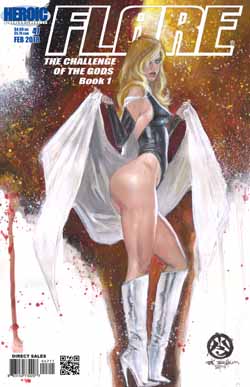 NOW ON SALE! FLARE #47

When it comes to women, everyone knows what Zeus is like. But now the ruler of the Olympian gods has crossed a line, and the goddesses of Olympus have had quite enough of it. It's time for them to be ruled by a queen of their own choosing. And of course, they're giving our own shining goddess of the light an opportunity to compete for the prize. Part One of "The Challenge of the Gods" is an all-new booklength adventure by Dennis Mallonee and Giancarlo Caracuzzo.

Cover by Mark Beachum


---
AND IN MONTHS TO COME
"The Challenge of the Gods" continues as our glittering goddess of light gets called upon to prove her right to rule as queen of Olympus in a multi-part saga that crosses over into issues of Black Enchantress, Heroic Spotlight, and Champions!

Flare will also play a role in "The Quest for Lady Arcane." This epic nine-part WitchGirls adventure is tentatively scheduled to begin in early 2018, and cross over into issues of Black Enchantress, Lady Arcane, and WitchGirls Inc.

Still not enough? Flare will also be appearing regularly in League of Champions, as well as in various issues of Champions, Sensational G-Girl, Liberty Girl, and other Heroic Publishing titles.


---