THE LEAGUE IS BACK!
---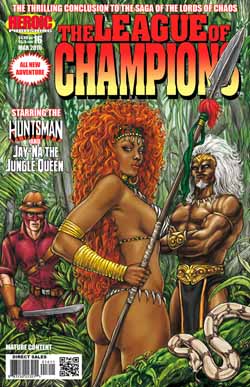 NOW ON SALE:
LEAGUE OF CHAMPIONS #16!

Against the world-threatening schemes of six powerful Lords of Chaos, five battles have been won. But in the final conflict, our heroes stand on the verge of defeat. There is already no more NEMESIS GIRL. Jamie Jensen is gone, perhaps forever, claimed body and soul by the power of the JUNGLE LORD, transformed into his sultry and sensuous JAY-NA THE JUNGLE QUEEN.

And unless the mysterious AURA can somehow stop his transformation into a goddess of the Chaos realms, the HUNTSMAN too will cease to exist, replaced by the Jungle Lord's second beautiful bride. With Aura herself on tap to be remade into bride number three, how can the battle against the Jungle Lord possibly still be won? And how does the unexpected invertention of PSYCHE play right into the hands of this most powerful and sinister of the Chaos Lords, as he looks for bride number four? Find out in this thrilling conclusion to the saga of the Lords of Chaos, by Dennis Mallonee and Ulderico Fioretti.

Cover by Ulderico Fioretti


---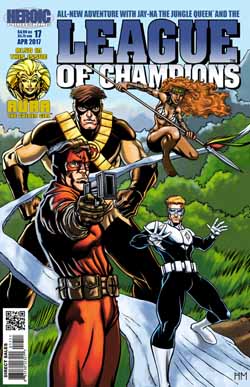 NOW ON SALE!
LEAGUE OF CHAMPIONS #17!

In the aftermath of victory, Icestar, Giant, and Jay-Na the Jungle Queen thought they were on their way to San Francisco. So how did they end up in Kansas? And what's a prehistoric jungle doing here smack in the middle of a wheat field, complete with dinosaurs? Explore the mystery of "Kansas: The Altered State" in an all-new adventure by Dennis Mallonee and Henry Martinez, based on an original idea by Daerick Gross and Brad Parker.

Also in this issue, the fabulous Flying Fox thought he was avoiding trouble when he slipped away from the Champions and stayed in the Realms of Chaos. What he didn't expect was that AURA and her golden sisters would come after him. "Fox Hunt" is a brand-new adventure by Dennis Mallonee and Ulderico Fioretti.

Cover by Henry Martinez


---
And you'll definitely want to read League of Champions #13, 14, 15,
plus the very beginning of this epic crossover adventure in Flare #41.