THE LIBERTY GIRL RETURNS IN 2020
---
VISIT THE LIBERTY GIRL'S HOME PAGE
---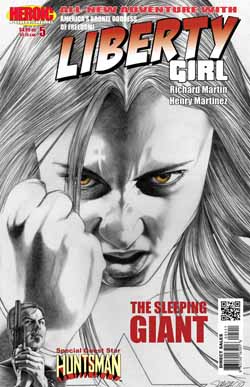 COMING IN 2020: LIBERTY GIRL #5

America's bronze goddess of freedom returns in the summer of 2020. You won't want to miss this super-sized 52-page issue, featuring "The Sleeping Giant," by Richard Martin and Chris Marrinan, plus "The Funeral of Fletcher," by Dennis Mallonee and Chris Marrinan, with special guest appearances by the Huntsman and the League of Champions.

Cover by Mark Sparacio


---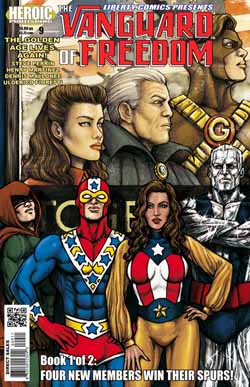 ALSO IN 2020: LIBERTY COMICS #9

The Golden Age lives again when the LIBERTY GIRL teams up with the legendary VANGUARD OF FREEDOM in a brand-new thirty-four page adventure in the super-sized ninth issue of LIBERTY COMICS, featuring artwork by Henry Martinez, Chris Marrinan, Gordon Purcell, and Ulderico Fioretti.

Travel back with us into the Golden Age of Heroes! With the specter of war looming on the horizon, it's up to GIANT, DOCTOR ARCANE, BRITANNIA, and ROLAND HUNTER to find allies to join them in their quest to eal with the machinations of Adolf Hitler's most sinister occultists, the sorcerers of Thule. This is the never previously told story of how MINUTEMAN, DIAMOND JIM, FLETCHER THE BOWMAN, and the LIBERTY GIRL joined the Vanguard.

Also in this 52-page comic book you'll find several bonus features, including ICONS game stats for the heroes in the Vanguard of Freedom.


---
YOU CAN ALSO ORDER THESE GREAT ISSUES!

Liberty Girl #0
$9.99



Liberty Girl #1
$4.99


Liberty Girl #2
(2nd Edition)
$4.99



Liberty Girl #3
$7.49



Liberty Girl #4
$4.99



---

Liberty Comics #0
$4.99


Liberty Comics #1
$5.99


Liberty Comics #2
$4.99


Liberty Comics #3
$4.99


Liberty Comics #4
$4.99



---

Liberty Comics #5
$4.99


Liberty Comics #6
$4.99


Liberty Comics #7
$4.99


Liberty Comics #8
$4.99