NOW ON SALE!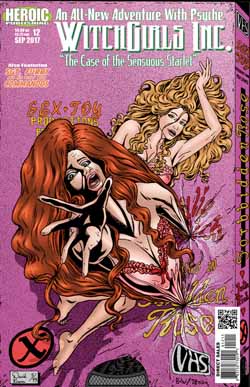 THE WITCHGIRLS HAVE RETURNED!

First, our scarlet-tressed detective finds herself caught up in the world of porn video when she agrees to take on "The Case of the Sensuous Starlet.

Plus! Sgt Furry and His Teddy Bear Commandos return in an all-new adventure by J. Adam Walters.

Cover by David Gross


---
BANG! BANG! BANG!
THREE LITTLE WITCHGIRLS ALL IN A ROW!
The classic early adventures of LADY ARCANE, PSYCHE, and the BLACK ENCHANTRESS
are featured in these brand-new trade paperback collections. Learn the secrets of
the WitchGirls by placing your orders today!
---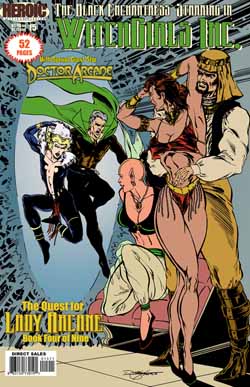 AND IN 2018!
FRANK BRUNNER AND CHRIS MARRINAN RETURN IN WITCHGIRLS INC #15

Frank Brunner and Chris Marrinan return at last with a brand-new PSYCHE adventure, "The Cult of Kali-Yuga."

It's the penultimate chapter in the Circles of Fear storyline, as the trail of her missing partner, John Carstairs, leads our beautiful scarlet-tressed detective into the depths of a maddening conspiracy that just might lead into the house of Britain's royal family itself!

Cover by Frank Brunner