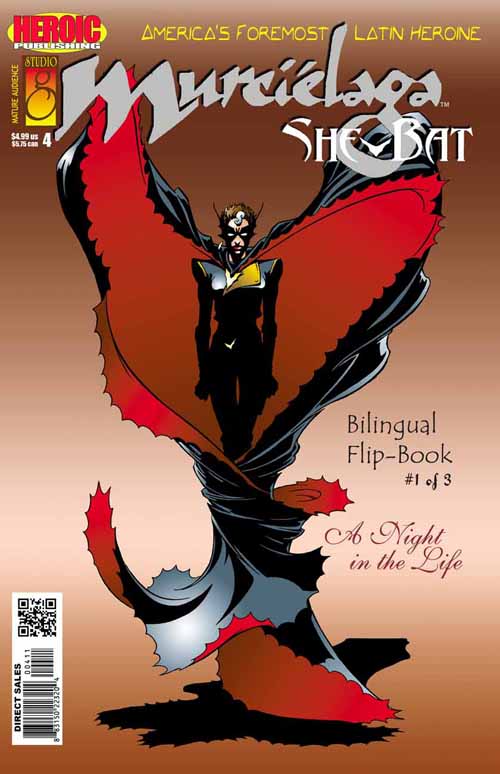 We're looking for contributions totaling only $500 to bring these new editions to print. Thus far we have $120. Your contribution will be most welcome.
---
Every contribution made from this page will go directly
toward the production of these new editions of
MURCIELAGA SHE-BAT #4 through #7.
Support this project and reserve your reward today!
Help Us Get These Classic Issues of Murcielaga She-Bat Back into Print!
The original editions of Murcielaga She-Bat #5 through #7 are sold out. And only one copy remains of issue #4.

We are ready to republish these issues in a second edition, and we could use your help in bringing that about.

Issues #4 through #6 are bilingual flip-format comic books, featuring English and Spanish versions of three different stories. Issue #7 features a rematch between the She-Bat and her arch-enemy Gams.

For a contribution of $50, you can get all four of these issues autographed by Daerick Gross. Or for $20, without autographs.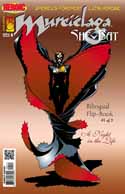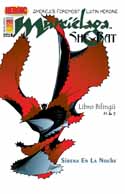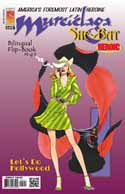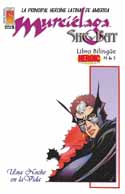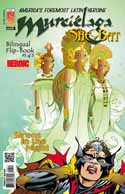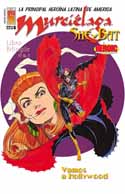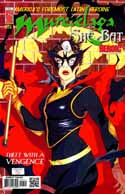 YES! Please reserve for me autographed copies if Murcielaga She-Bat #4 through #7. I am contributing $50.00, plus $4.00 in the US to help cover shipping costs (international shipping will vary). I understand that these issues will not ship until after they are received from the printer.

I'd like copies of Murcielaga She-Bat #4 through #7 without autographs, and am contributing $20.00 (plus $4.00 in the US to help cover shipping).


You can also contribute to these new editions of Murcielaga She-Bat #4 through #7 by ordering
any or all of these great issues of Murcielaga She-Bat and Reiki Warriors.
These issues will ship immediately upon recipt of your contribution.

Please note that for delivery in the US there will be a flat $4.00 shipping charge.
Shipping charges for international delivery will vary.


Murcielaga She-Bat #1
Original B&W Edition
$7.50

Murcielaga She-Bat #1
New Color Edition
$5.00

Murcielaga She-Bat #2
Original B&W Edition
$7.50

Murcielaga She-Bat #2
New Color Edition
$5.00

Murcielaga She-Bat #3
Original B&W Edition
$10.00

Murcielaga She-Bat #3
New Color Edition
$5.00

Murcielaga She-Bat #4
Original Edition
$15.00


---

Murcielaga She-Bat #4
New Edition
$5.00

Murcielaga She-Bat #5
Original Edition
SOLD OUT
SOLD OUT
Murcielaga She-Bat #5 New Edition
$5.00

Murcielaga She-Bat #6
Original Edition
SOLD OUT
SOLD OUT
Murcielaga She-Bat #6
New Edition
$5.00

Murcielaga She-Bat #7
Original Edition
SOLD OUT
SOLD OUT
Murcielaga She-Bat #7
New Edition
$5.00


---

Murcielaga She-Bat #8
$5.00

Murcielaga She-Bat #9
$5.00

Murcielaga She-Bat #10
$5.00

Murcielaga She-Bat #11
$5.00

Murcielaga She-Bat #12
$5.00

Murcielaga She-Bat #13
$5.00

Murcielaga She-Bat #14
$5.00


---

Murcielaga She-Bat #15
$5.00

Murcielaga She-Bat #16
$5.00

Murcielaga She-Bat #17
$5.00

Murcielaga She-Bat Special #1
$7.50

Reiki Warriors #1
Original B&W Edition
$7.50

Reiki Warriors Special #1
$7.50