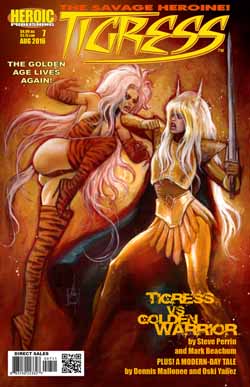 BACK IN HER OWN MAGAZINE!
The first new issue of
Tigress
(issue #7) is now on sale, featuring
two
classic tales of the original savage heroine, by Dennis Mallonee, Mark Beachum, and Oski Yanez.
Then, in
Tigress
#8 and #9, look for
brand-new
adventures of our savage heroine.
In the meantime, you can order copies of the new color edition of the original
Tigress
series.
TIGRESS COLOR #1
$4.99
TIGRESS COLOR #2
$4.99
TIGRESS COLOR #3
$4.99
TIGRESS COLOR #4
$4.99
TIGRESS COLOR #5
$4.99
TIGRESS COLOR #6
$4.99
While supplies last, you can also order copies of these classic issues!
FLARE v2 #6
$9.99
TIGRESS #1
$9.99
TIGRESS #2
$9.99
TIGRESS #3
$7.50
TIGRESS #4
SOLD OUT
TIGRESS #5
$7.50
TIGRESS #6
$7.50
FLARE ADVENTURES #17
$4.99
FLARE ADVENTURES #23
$4.99
FLARE ADVENTURES #24
$4.99
FLARE ADVENTURES #25
$4.99
LIBERTY COMICS #2
$4.99
LIBERTY COMICS #5
$4.99
CHAMPIONS #36
$4.99
CHAMPIONS #37
$4.99
FLARE #35
$4.99
CHAMPIONS #40
$4.99
CHAMPIONS #46
$4.99
CHAMPIONS #51
$4.99
CHAMPIONS #52
$4.99
CHAMPIONS #54
$4.99
CHAMPIONS #55
$4.99
CHAMPIONS #57
$4.99
CHAMPIONS #59
$4.99