THE HEROIC BLOG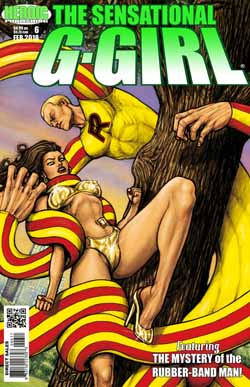 19 October 2017

The artwork for Sensational G-Girl #6 is complete! James Webb has just finished all 18 pages of the lead story, in which Billi Jayne meets the super-stretchy Rubber-Band Man. And Gordon Purcell has added a 6 page backup feature in which a secret from out of the G-Girl's past is finally revealed. This issue is scheduled to go to the printer in early December, and will be on sale in mid January. If you haven't already done it, you can place an advance order and reserve your copy today!

18 October 2017

Today we added as a reward option to the Flare Kickstarter an 11" x 17" autographed color print of that beautiful Mark Beachum cover you see down below. And more reward options are coming! Please spread word about this on social media. In order to make this work, we definitely need all the help from Flare fans we can get. https://www.kickstarter.com/projects/346915533/flare-the-challenge-of-the-gods-book-1

17 October 2017

We've added a few rewards to the Flare Kickstarter. Mark Propst, Rob Jones, and Gordon Purcell have all been kind enough to offer original Flare sketches as rewards. If you've ever had a hankering for original Flare art, this Kickstarter is your chance to make that dream come true. Also new is an opportunity to subscribe to all 13 issues of the upcoming "FLARE: The Challenge of the Gods" series. Please kick on over to the Kickstarter https://www.kickstarter.com/projects/346915533/flare-the-challenge-of-the-gods-book-1, and help us make this project a success.

16 October 2017

There's a very nice YouTube video produced by Luca Torzolini that promotes Ulderico Fioretti's upcoming Jay-Na the Jungle Queen graphic novel. When you have a few minutes, take a look at it here: https://www.youtube.com/watch?v=1pcqzBz0z7Y&feature=youtu.be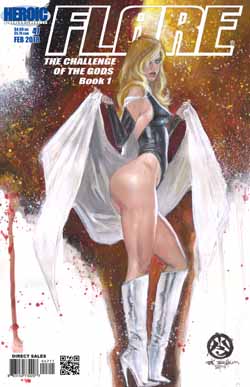 14 October 2017

We've just launched a Kickstarter for Flare #47. This issue is Book One of the 13-part "Challenge of the Gods" sequence scheduled to appear next year across four different Heroic Publishing titles. This is an experiment. The issue is already complete and ready to go. What the Kickstarter is looking for is money to pay for the printing. The Kickstarter project is here: https://www.kickstarter.com/projects/346915533/flare-the-challenge-of-the-gods-book-1 There are several excellent rewards available, including opportunities to appear as a character in upcoming issues. Please tweet and retweet about this, post to Facebook, and otherwise spread the word.

13 October 2017

This is new! Visit the Heroic Publishing Creators' Corner and learn all about the talented people who create your favorite Heroic Publishing titles!

12 October 2017

Want to own a piece of Heroic Publishing history? Right now, there are a several pages of original art from early issues of League of Champions available on eBay, along with a few pieces of cover art from various issues. Check out what's available here: https://www.ebay.com/sch/dmallonee/m.html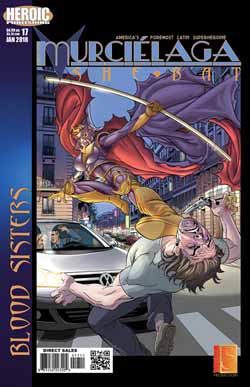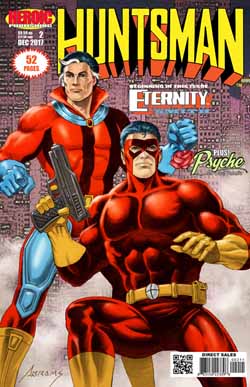 10 October 2017

And today, HUNTSMAN #2 and MURCIELAGA SHE-BAT #17 were sent to the printer. The She-Bat issue features the concluding chapter of the origin of the She-Bat, and the super-sized Huntsman issue features the concluding chapter of the origin of the Huntsman plus classic bonus adventures starring Psyche and Eternity Smith. They'll be available in mid November. But you can definitely place an order for your copies today. Also, if you haven't previously considered getting a global subscription to every title we publish, this would be a really good time to do it, because doing that will give you a huge discount on the super-sized Huntsman issue.

9 October 2017

CHAMPIONS #66 is at the printer! Order your copy today!

1 October 2017

NEWS FLASH! Gordon Purcell is offering some of his original FLARE and G-GIRL art right now on eBay. This includes his cover for FLARE #28, featuring Lady Darkon, and the first five pages from his "Journal of Billi Jayne Jensen" story that will appear in Sensational G-Girl #6. The bidding ends Sunday morning, October 8. To place a bid on one of the pieces you see below, just click on the image.




26 September 2017

Gordon Purcell just send us the last pages of pencils for the second story in Sensational G-Girl #6. This is a short, but significant story, in that it gives us our first significant clue as to what really happened on the night Will Jensen lost the power of Giant, and the Sensational G-Girl was born.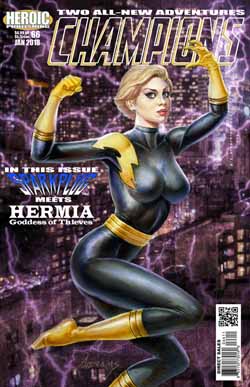 25 September 2017

Hoo-hah! All the artwork for Champions #66 is in, which means we'll probably bump it forward in the schedule by a bit. There's still color work to do, but everyting else, including lettering, is done. In this issue of Champions, the focus is on the romantic misadventures of SPARKPLUG. Taking it From her star-crossed relationship with ace reporter Jimmy Dooley, to her ambiguous relationship with the G-Girl's little brother Jimmy, we'll be giving you a meaningful yet fun-filled look at just what it is that makes Sparkplug tick. Get ready for it by placing your order today.

24 September 2017

There's only a week left to take advantage of our special back issue offer. If you place an order for Heroic Publishing back issues totaling $50 or more, we'll also send you a free copy of the Alter Ego trade paperback by Roy Thomas and Ron Harris. The offer ends on October 1. So if there are any issues of Flare, Champions, Sensational G-Girl, or any other Heroic title you're missing, get that order in before October 2 rolls around.

19 September 2017

More lettering was done today for Sensational G-Girl #6. As of right now, we've completed 14 of 18 pages for the "Rubber-Band Man" story, and 4 of 6 pages for the "Journal of Billi Jayne" story. Not much more to go!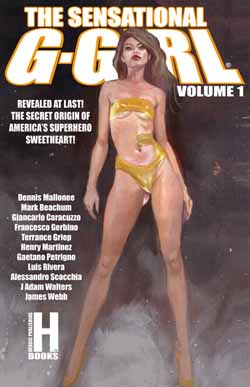 14 September 2017

Physical copies of the first Sensational G-Girl trade paperback are here way ahead of schedule! Place your order today!


BLOG ARCHIVE

NOW ON SALE


COMING SOON