CHECK OUT THE NEW STUFF IN OUR ZAZZLE STORE!


We've just started adding some really nifty merchandise to the Heroic Publishing storefront on Zazzle.com. Check it out here: zazzle.com/store/heroicpub. In our Zazzle store, you can get stuff featuring Flare, the G-Girl, the Liberty Girl, and much more to come!


THE HEROIC BLOG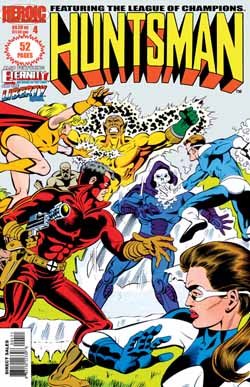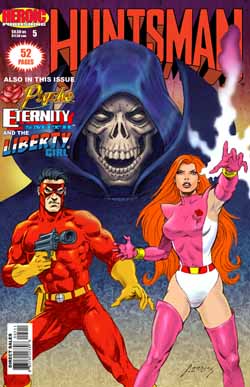 4 March 2021
Only a few days left on our crowdfunding effort for Huntsman #4 & #5. Back this project and choose your reward today!

26 February 2021
IT'S ON! Sean Harrington has started planning our special, expanded anniversary edition of the Lana/Flare crossover, featuring all the original material, plus brand-new pinup pages and a brand-new Flare/Lana story! Visit the Flare project page and find out how you can support this project!

24 February 2021
Our Huntsman project has officially launched on Kickstarter! It's two issues of the Huntsman, both\ t the same time. Check it out here.

12 February 2021
ALERT! We have exactly one remaining copy of the special limited edition of Champions #57, featuring a naughty Tigress cover by Paul Abrams! If you want it, act fast! Visit the Tigress project page, and grab it before it's gone!

8 February 2021
Copies of Tigress #10 has arrived! Subscription copies and Kickstarter rewards will be going out starting tomorrow. If you haven't yet ordered your copy of this issue, visit the Tigress project page, make a contribution, and choose your reward!

6 February 2021
NEXT UP: THE HUNTSMAN! This month, we'll be focusing on finishing up the color work for Huntsman #4, and bringing that issue to print. The thing is, we don't have that much farther to go! GIUSEPPE PICA has started adding color to Chapter Two of the classic Huntsman/Psyche adventure, "The Case of the Living Dead Man." Everything else that will be featured in this issue is ready to go. You can help us get this done by visiting the Huntsman project page, making a donation, and choosing your reward!

5 February 2021
YOU DID IT! Our crowdfunding effort for Murcielaga She-Bat #19 was a success! Daerick Gross Sr is now hard at work on completing the coloring. And as soon as that's done, the newest issue of Murcielaga She-Bat will go straight to our printer.

4 February 2021
We have a new, fourth page of GORDON PURCELL artwork for Black Enchantress #6. Check it out on the Black Enchantress project page.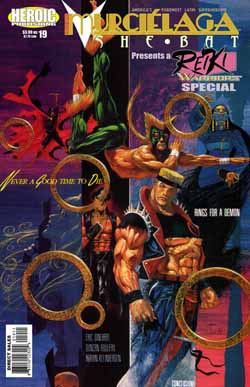 28 January 2021
Only one week left to go on our crowdfunding effort for Murcielaga She-Bat #19. Back this project and choose your reward today!

21 January 2021
MARK BEACHUM has an awesome crowdfunding project underway. You can offer your support for it and choose your reward here.

16 January 2021
You can also now follow us on Minds.com
https://www.minds.com/heroicpublishing/

16 January 2021
CHRIS MARRINAN tells us he's champing at the bit to get working again on the next issue of LIBERTY GIRL! Visit the Liberty Girl project page and find out how you can make your contribution to the effort, and earn yourself some great rewards.

14 January 2021
It's live! Our new Murcielaga She-Bat crowdfunding effort is up and running and going strong. Make a contribution and choose your reward. You can find it here: kickstarter.com/projects/heroicpublishing/a-new-issue-of-murcielaga-she-bat

12 January 2021
ANDREW PEPOY has a crowdfunding effort going on IndieGoGo. Check it out here: https://bit.ly/simoneandajaxgogo It's already funded, but it's still going, and there are still some great rewards available.

11 January 2021
Our good friend BILLY TUCCI has a very successful crowdfunding effort underway for his new SHI project. It's running in slightly different versions on both Kickstarter and IndieGoGo. Check 'em out. Choose your rewards.
http://kck.st/38gqDLD
https://igg.me/at/2yZuxrKpqKY/x#/

11 January 2021
WOW! Our Tigress fundraising effort was far more successful than we expected or ever hoped for. Thanks to every fan who contributed to it, we're not only able to get the special tenth issue of the Tigress into print, we're well on our way toward reaching our goal for contributions to Tigress #9. Keep watching! Updates will be posted.

10 January 2021
Last day for our Tigress kickstarter! If you haven't already claimed a reward, now's the time to do it.

9 January 2021
We've added reward options for Murcielaga She-Bat #19. There are 11"x17" She-Bat posters available! Check them out on the She-Bat project page.

8 January 2021
You can also now follow us on Gab.com @heroicpublishing.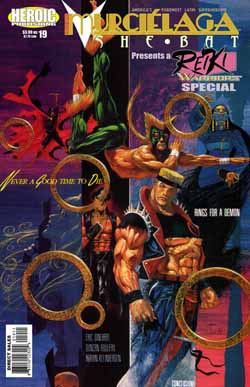 3 January 2021
Happy New Year, everyone! We've started the ball rolling on Murcielaga She-Bat #19, which will feature (for the first time in color) the booklength 27-page conclusion to the "Rings for a Demon" storyline. The color work for this classic tale of the She-Bat and the Reiki Warriors will be done by none other than the Reiki's creator, Daerick Gross Sr. If you'd like to support this project, visit the She-Bat project page, make a contribution, and choose your reward.


BLOG ARCHIVE

NOW ON SALE


Support us on Patreon, and get exclusive access to the
Heroic Preview Page!
OUR NEWEST COMICS
---
THE HEROIC PUBLISHING
MISSION STATEMENT
Heroic Publishing is all about
what it takes to be a hero.

Too often in recent years, other comic book companies have not been presenting superheroes as heroes. Too often, their characters have been treated merely as interesting people with peculiar abilities. While there may be some merit in taking that approach, it's not what Heroic Publishing is all about.

For all their flaws, the characters we focus on at Heroic Publishing are (usually) trying their best to live up to the heroic ideal. They may fail, they may suffer setbacks, there may be personal issues that deflect them from the goal. But they try. They strive. And when they succeed, there are wonders to behold.

Our goal at Heroic Publishing is to present entertaining adventures featuring characters who truly are superheroes.

--Dennis Mallonee

---
WHAT'S COMING!
---