THE HEROIC BLOG
24 August 2015
Today's words of wisdom from the Sensational G-Girl: "Evidently, there are
some
giant gorillas who don't
like
being referred to as monkeys."
19 August 2015
I should add that copies of these new editions of various classic Heroic titles can be purchased not only here on the Heroic Publishing website, but at www.IndyPlanet.com
19 August 2015
We're also preparing new editions of the early issues of FLARE! The reason is that we're running low on our inventory of titles from the 1980s and 1990s, and replacement copies are becoming more and more difficult to find. But we've always wanted to keep every Heroic Publishing back issue available for new readers for as long as we possibly can. Trade paperback collections are a help; they do make the stories available in a different format. But the only long-term solution to the question of what to do when we run out of copies of, say Flare #1, is to have a brand-new edition ready to go.
1 August 2015
Welcome to August! The big news this month is that the original CHAMPIONS mini-series is coming back in a brand-new edition! Starting in October, you'll be able to see the very first publshed adventure of Flare and the League of Champions as they take on the threat of Dark Malice, DEMON, and the sinister Demonmaster. It's a six-part series, with issues #3 and #4 to be released in November, issues #5 and #6 in December.
22 July 2015
We've just sent the second issue of
Psyche the Occult Detective
to our printer. This is an ongoing super-sized 52-page comic book series that will start with color versions of Psyche's classic adventures, then shift into new material. Catch up on the history of our beautiful scarlet-tressed adventurer by putting in an advance order for issue #2 today!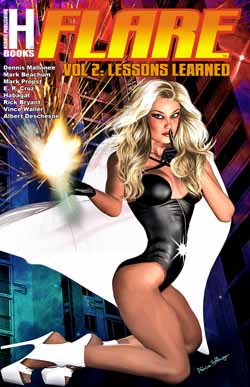 12 July 2015
There's a brand-new FLARE trade paperback coming your way. Flare: Lessons Learned is a 112-page volume featuring her classics adventures from issues #1-4 from her second comic book series. Along with a magnificent cover by Alicia Hollinger, the stories in this volume include her first confrontation with the invincible Thugmaster and the Blonde Bombshell, guest appearances by Lady Arcane and the Galloping Galooper, and a goofy encounter with the fabulous Flying Fox. There's also some wonderful artwork by Mark Beachum, Mark Propst, E. R. Cruz, Rick Bryant, Vince Waller, Albert Deschesne, and Habagat.
Yes, advance copies can be ordered right now. Just visit the Flare: Lessons Learned
preview page
.
5 July 2015
I hope everyone had a joyous 4th of July. And I hope that Liberty still lives in the hearts of the American people.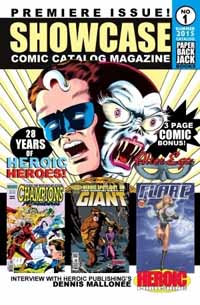 29 June 2015

We're featured this month in the first issue of the new comics news magazine, COMIC CATALOG! Check it out at the Comic Catalog website, http://www.comiccatalog.net

24 June 2015

Champions #63, Champions Adventures #13, and Liberty Comics #8 have all arrived from our printer. This is a wonderful set of issues, featuring a clash between Sparkplug and Icicle plus a brand-new Sensational G-Girl adventure (Champions), a classic adventure of the Huntsman plus a tale of the shape-shifting Sylph (Champions Adventures), and the true story of the origin of the Golden Warrior (Liberty Comics). Subscription copies will be sent out this weekend. We do have more copies on hand, and there's still time to order them!

13 June 2015

We've found our artist for the tale of the original Giant currently scheduled to appear in Sensational G-Girl #1. Jim Webb has stepped up to take on the assignment. You've seen Jim's work in various issues of Champions Adventures. And he has a G-Girl story he's plotting and drawing himself on tap for Champions #64.

I should mention that this would be a good time to lock in a Global Subscription. Do it quickly, and you'll get that first issue of Sensational G-Girl as part of the package, and pay only $4.50 for a comic book with a cover price of $9.50. That's a savings of more than fifty percent, with free shipping too!

11 June 2015

Steve Perrin just delievered the plot for the tale of the original Giant that we're hoping to have ready in time for the first issue of Sensational G-Girl. It takes place in Alexandria, right after the origins of Giant and Dark Malice, and will also feature an appearance by the young Doctor Arcane. Now we need to find the right artist to get cracking on it . . .
BLOG ARCHIVE

NOW ON SALE


COMING SOON