THE HEROIC BLOG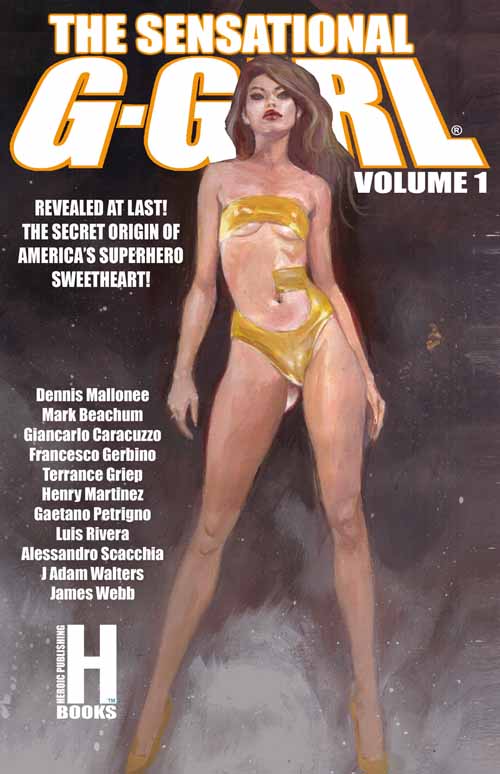 20 July 2017

For the early birds who just can't wait, we've made a digitial edition of the upcoming Sensational G-Girl trade paperback available on DriveThruComics, and here on the Heroic Publishing website. This trade paperback features Billi Jayne's earliest adventures, including two brand-new stories that haven't yet been published in a comic book. And one of those new stories reveals for the first time "The Secret Origin of the Sensational G-Girl." One thing to note is that there's still a little work to be done on the coloring of the origin story. As soon as that work is done, we'll revise the digital edition and notify anyone who purchases it that there's an update to download. It's just that people have been asking about this for so long, we thought we should get it out there for you as soon as we had it. And for those of you who do want the print version, that will likely be available sometime in late August or early September.

16 July 2017

The Sensational G-Girl now has her own Facebook page at https://www.facebook.com/sensationalggirl. She'll be available to take questions and respond to comments. Hop on over and tell Billi Jayne what you think.

15 July 2017

Icicle #8 and Champions #65 are here! Subscription copies will be going out early next week. And we'll also be including a surprise or two for our Global Subscribers.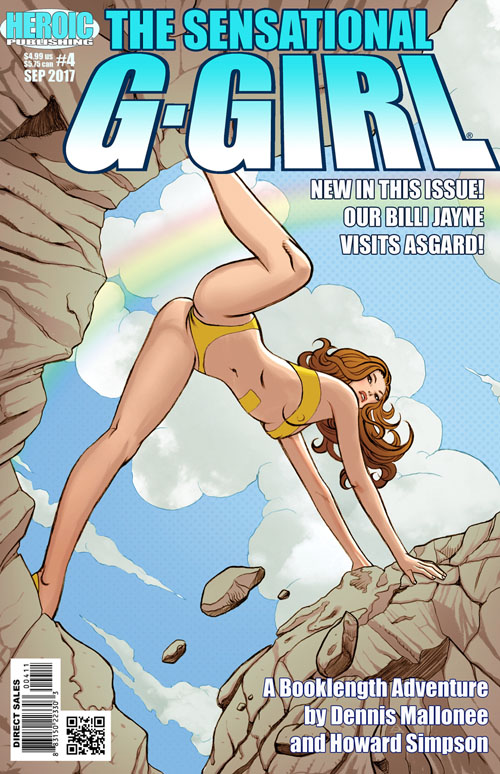 7 July 2017

Love the completed version of the Alessandro Scacchia piece we're using as the cover of Sensational G-Girl #4. When Alessandro first sketched it, he didn't even know it would tie right in with an upcoming "G-Girl in Asgard" story. Serendipity is a wonderful thing. In any event, you'll want to get hold of this issue, because it not only features a whole slew guest stars, including NAOMI BATTLE SQUIRREL, it helps sets the stage for what's eventually going to be an epic showdown between the League of Champions and the occult criminal organization, DEMON.

15 June 2017

Also, Icicle #8 is finally out the door, and in our printer's hands.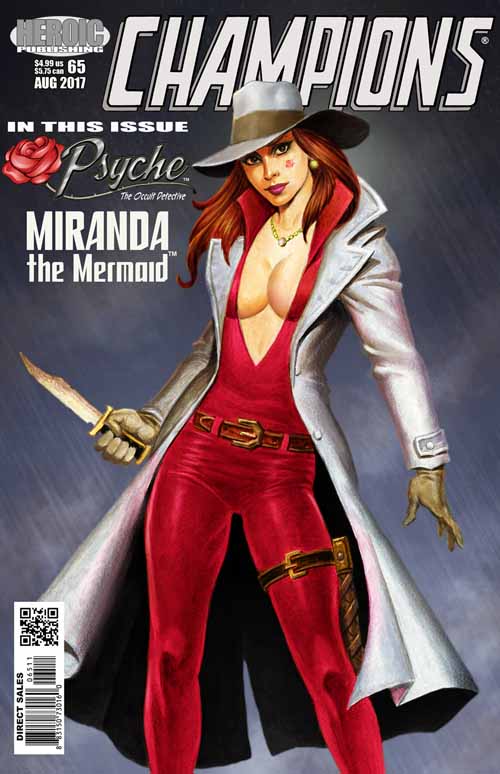 14 June 2017

Champions #65 is at the printer. This is a special issue featuring two classic adventures of PSYCHE THE OCCULT DETECTIVE. "The Ghost of Chance" is by Terrance Griep, David Gross, and Terry Pallot. "Mermaid of the Potomac" is by Steve Perrin and Chris Marrinan, and features special guest appearances by the Huntsman and Miranda the Mermaid. The Miranda story, in particular, ties in with a couple of upcoming storylines that will appear in Liberty Girl and Sensational G-Girl. Enjoy!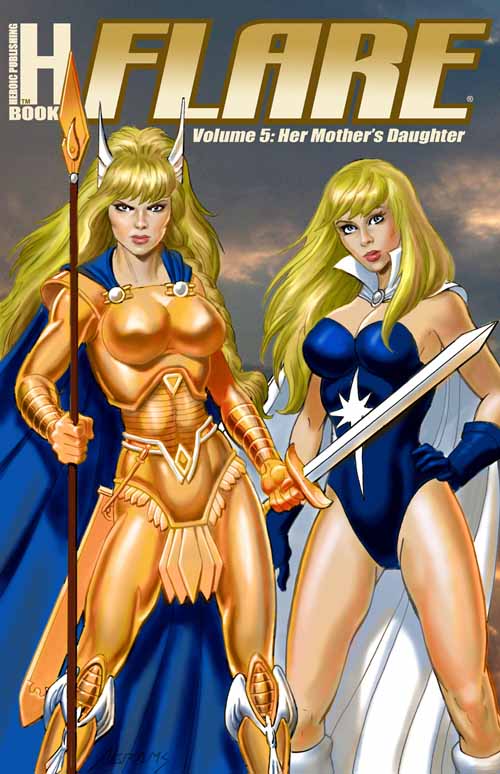 1 June 2017

The final piece of the puzzle has arrived. We now have everything we needed to put together the "missing" volume of Flare's adventures, collected from her appearances in various issues of Champions, Flare, Flare Adventures, Flare First Edition, and Flare Annual, and adorned with a wonderful Paul Abrams cover. These are the tales that hearken back to the origin of Flare, and bridge the gap between the final issue of her original series, and the beginning of her current series. It will be at least a couple of months until the print version of this 152-page volume is available, but we have put together a digital version you can downoload from the PDF store right here on the Heroic Publishing website.

31 May 2017

We were saddened to learn yesterday evening that Albert Deschesne had passed away. Albert had been a mainstay of Heroic Publishing almost since the inception of the company, first with his lettering work and a bit of inking. More recently he'd expanded his repertoire to include some wonderful coloring. The final color work Albert did for us will appear in Murclelaga She-Bat #16, and eventually on the cover of Captain Thunder #13. Albert was not only a valued colleague, but a true friend. He will be missed.

24 May 2017

The trade paperbacks are here! We have two new collections of classic tales of FLARE and the LEAGUE OF CHAMPIONS. The League trade features the entire six-part "War Against Olympus" storyline that introduced the gods of Olympus into the Heroic multiverse. The Flare trade features the entire run of her "Adventures in Olympus" sequence, the set of stories that introduced the night-goddess Nyx. They're beautiful books, with covers by Chris Marrinan and Paul Abrams. If you haven't yet read these stories, grab these trade paperbacks now. They serve as a necessary prologue to our upcoming multi-part "Challenge of the Gods" storyline.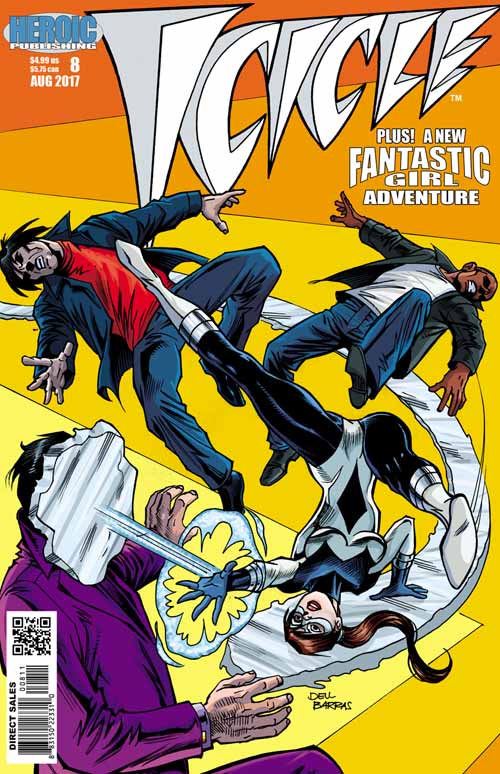 21 May 2017

SURPRISE! The eighth issue of ICICLE will be coming to you even sooner than we'd been expecting. We've had the Icicle story itself for quite a while. What we've been missing is the eight page backup feature that would have starred the irrepressible SKATER. But lo! and behold, we've just received the finished artwork for the eight page FANTASTIC GIRL adventure that had originally been scheduled for Heroic Spotlight #27. So . . . why wait? We shuffled things around a bit. The Skater story's been moved to Icicle #9, we'll put something else in that issue of Heroic Spotlight, and ICICLE fans will get their sneaky little sneak thief just as soon as we get copies back from the printer.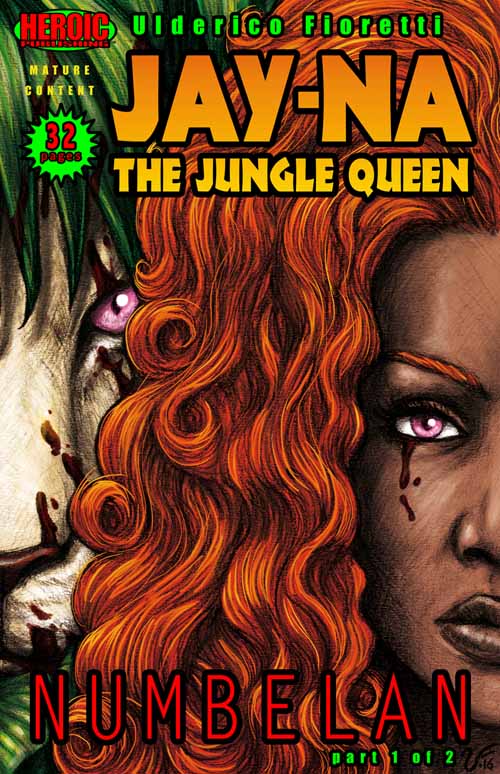 19 March 2017

COMING THIS SUMMER! Ulderico Fioretti is hard at work on a brand-new project featuring none other than JAY-NA THE JUNGLE QUEEN. When she first appeared in League of Champions #15, did you suspect that there was more to Jay-Na than met the eye? Well, you were right. The goddess-spirit of the Jungle Queen is as ancient as the world itself. Now, for the first time, learn the secrets of the origin of Jay-Na in the brilliant two-part graphic novel, Numbelan. The release date hasn't yet been set, but we're expecting Book One to be available in late summer or early autumn. As we get more information, watch for news about this fantastic project here on the Heroic Publishing website.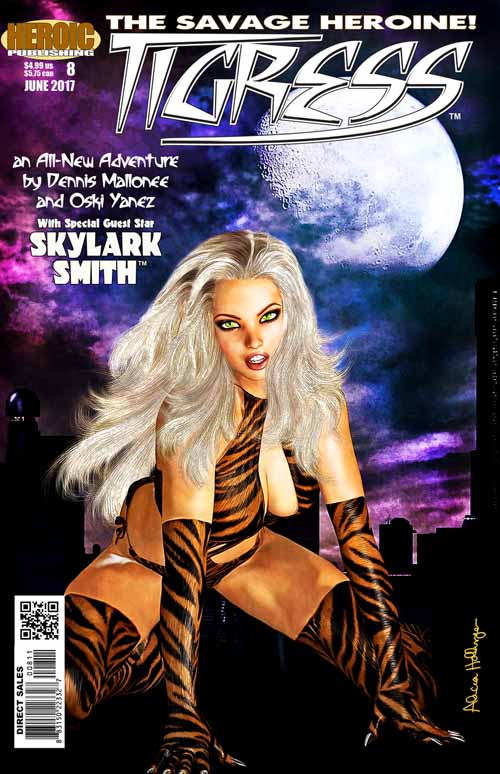 26 February 2017

We have a surprise in store for you! The color work for Tigress #8 is complete, it's almost ready to go to the printer, and we've added it to our schedule for an April release. Visit out Previews page and take a look at what our savage heroine has in store for you.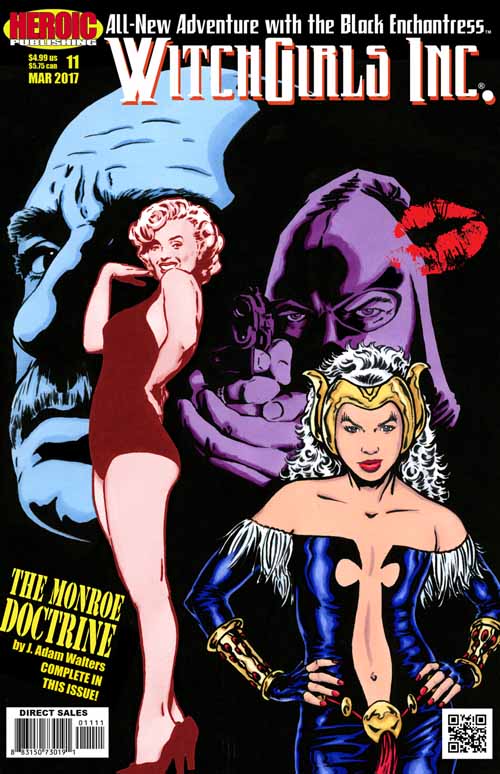 27 January 2017

It's here! Our printer turned this issue around in record time! The all-new 11th issue of WitchGirls Inc is now on sale. Subscription copies will be going out in about a week, along with Champions Adventures #14 when it arrives. But if you're a retailer who wants to have this issue in stock, get in touch with us now. And if you're a fan who hasn't yet placed your order, there's no reason to wait.

12 January 2017

Good news for WitchGirls fans! We've bumped the release date forward a month, which means you won't have to wait until March to see this J Adam Walters tour de force starring the Black Enchantress. It will be on sale on or about February 15. Order your copy today!
BLOG ARCHIVE

NOW ON SALE


COMING SOON