We don't often make recommendations for Kickstarter projects, but this one's a special case! The upcoming "Against the Axis" RPG supplement is written by stellar Steve Perrin, and features (among other characters) game statistics for a whole slew of Heroic Publishing's World War II superstars, including members of the Vanguard of Freedom and their evil Axis counterparts. It also ties in directly with this summer's upcoming Vanguard of Freedom special in the pages of Liberty Comics. So if you'd like to support a worthy cause, hop on over to kickstarter.com and look in the Games section for "Against the Axis!"
And here's a URL that will take you to a YouTube video in which the project is discussed: https://youtu.be/NBVG-AvWBZ8
THE HEROIC BLOG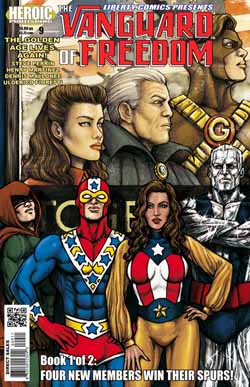 23 January 2016

The G-Girl is at the printer! The first issue of Sensational G-Girl is complete and ready to go to press! It's a super-sized 52-page issue feature five stories! If you haven't already reserved a copy, put your order in today!

16 January 2016

The big news for today is that the legendary VANGUARD OF FREEDOM will be featured this summer in a super-sized 52-page issue of Liberty Comics! This book-length adventure is written by Steve Perrin, and tells the story of how, in the early days of World War II Diamond Jim, Liberty Girl, Fletcher, and Minute Man joined Britannia, Doctor Arcane, the original Giant, and Roland Hunter in the Vanguard. The artwork is by the stellar team of Chris Marrinan, Ulderico Fioretti, Henry Martinez, and Gordon Purcell! It's something we're eagerly looking forward to. And we think you'll like it, too.

31 December 2015

Copies of Black Enchantress #4 have arrived! League of Champions #16 is at the printer! And we're only three pages of coloring away from having Sensational G-Girl #1 ready to go to press!

26 December 2015

We hope you and yours had a merry Christmas. And all of us here at Heroic Publishing are looking forward to a wonderful new year.

5 December 2015

The verdict is in! All four of the truly super heroines we've been featuring in the pages of Champions are ready to star in their very own comic book titles! Brand-new issues of Sensational G-Girl, Icicle, Tigress, and Sparkplug are on tap for 2016! And if you're wondering what's going to happen with the Champions comic book, take a look at our newsletter and see!

2 December 2015

Black Enchantress #4 is at the printer! Place an order and reserve your copy today!

29 November 2015

Our Progress Reports page is up and running! It's still in its rudimentary stage, which means we'll be adding features to it, but right now you can see how far along we are with each of the next 10 titles we'll be publishing. For those of you who'd like to help move each project along with financial support, there's a Donation button. Do that in any amount, and we'll send you something special by way of thanks. To get there, click on the "Updates" link in the "News" dropdown from the navbar above, or just go to www.heroicmultiverse.com/heroicpub/update.

25 November 2015

Sometime this weekend, we'll be launching a new feature on the Heroic Publishing website. Once it's fully implemented, you'll be able to see Progress Reports for upcoming issues of all our Heroic Publishing titles. We'll tell you how far along we are with the stories, artwork, coloring, and lettering, which issues are ready to go to the printer, when they're expected to go to the printer, and when they're expected to go on sale. And in most cases, we'll give you some sample pages to look at! Watch for it. And when it's up, please let us know how useful you think it's going to be.

9 November 2015

A lot of progress this past weekend. The conclusion to the "Steel Shrike" story that will appear in Flare #43 has been drawn, scripted, and sent out for coloring. The four-page Fantastic Girl mini-adventure that will appear in Heroic Spotlight #23 is drawn, scripted, and ready for coloring. The bonus Spiderbaby adventure that will appear in Sensational G-Girl #1 is colored and ready for lettering. There are only three more pages of artwork to be finished for League of Champions #16. And Black Enchantress #4 is now completely laid out, and ready for our printer. What we're trying to do is get ahead of schedule, so that when 2016 gets here we'll be able to roll new comics out on a much more regular schedule.

23 October 2015

The LIBERTY GIRL has her own brand-new website! It's still a work in progress, but visit her at www.liberty-girl.com and let us know what you think!

21 October 2015

It's ready! The fourth issue of Black Enchantress is about to go to press! Also ready to go are the third super-sized issue of Psyche the Occult Detective and the Flare: Conflict trade paperback!

3 October 2015

Only one more page left to go! And Gordon Purcell is hard at work on it. As soon as it's here, Black Enchantress #4 will be sent to the printer. Right now, we're looking at an on-sale date of late November or early December.

28 September 2015

Billi Jayne has a new home page! We're gearing up for a February release of the super-sized first issue of The Sensational G-Girl, and in anticipation of that we've launched a brand-new look for the G-Girl's website at www.heroicmultiverse.com/ggirl. Take a look, and let us know what features you'd like us to add. We're still in the process of building it, and your input will be most welcome.

25 September 2015

Have you noticed? We're preparing brand-new editions of classic Heroic titles. In addition to color versions of various titles that back in the 1990s were published in black and white, we're also putting together new editions of titles from the 1980s. The goal here is to keep in print, in one form or another, everything Heroic Publishing has ever published! That means new editions are on the horizon of the earliest issues of Flare and Champions, complete with a few added surprise bonus features! Check out our Previews page. If you want copies of the new editions, we'll be more than happy to send them your way.
BLOG ARCHIVE

NOW ON SALE


COMING SOON