TAKE A LOOK AT WHAT ADAM WALTERS IS UP TO!


One of our favorite artists, J. Adam Walters, is publishing his own comic book on Lulu, in the same pinup/splash page format that was featured in WitchGirls Inc #13.

Until yesterday, Clarissa Edmunds was a forty-four year-old man named Harold Jenkins. But now, thanks to some magic, he's a cute teen-age girl. The story of Clarissa is going to be serialized in 24 page "issues", posted every 2-3 months. Issue 2 is already finished & will post in October. No 3 will appear in January, after the holidays. Volume 1 can be found here:

http://www.lulu.com/shop/tebra/clarissa-edmunds-vol-1/ebook/product-24199355.html

And for more direct support on an ongoing basis, you can help him out via Patreon.

https://www.patreon.com/user/overview?u=29101219

Give it a look. Adam is an extremely talented comic book creator who deserves your support.


THE HEROIC BLOG
12 December 2019


PART TWO OF THE CHAMPIONS/REIKI CROSSOVER IS COMING!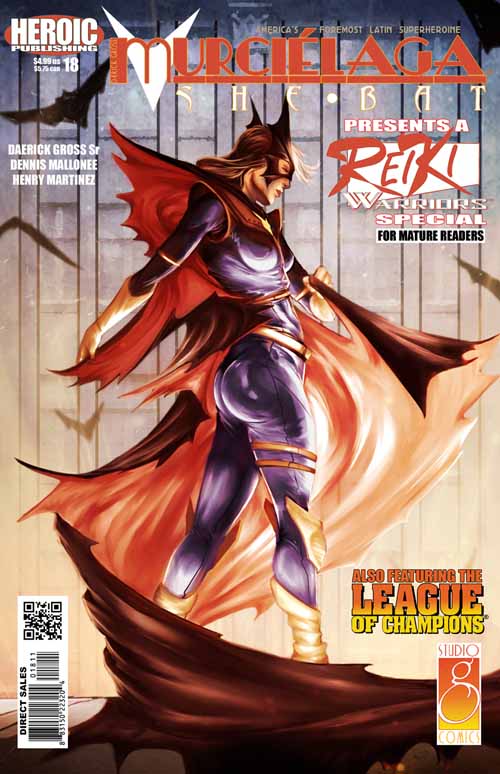 It started in League of Champions #17. And now, at last, it's about to continue in Murcielaga She-Bat #18! It's a crossover adventure that brings the LEAGUE OF CHAMPION together with Daerick Gross Sr.'s REIKI WARRIORS, in a story by Daerick Gross Sr., Dennis Mallonee, and Henry Martinez. The story, artwork, and lettering for this issue are complete, but there's still some coloring to do. That's why your help is needed to bring this project to fruition. So click on over to the Champions/Reiki project page and add your contribution to the effort today.

7 November 2019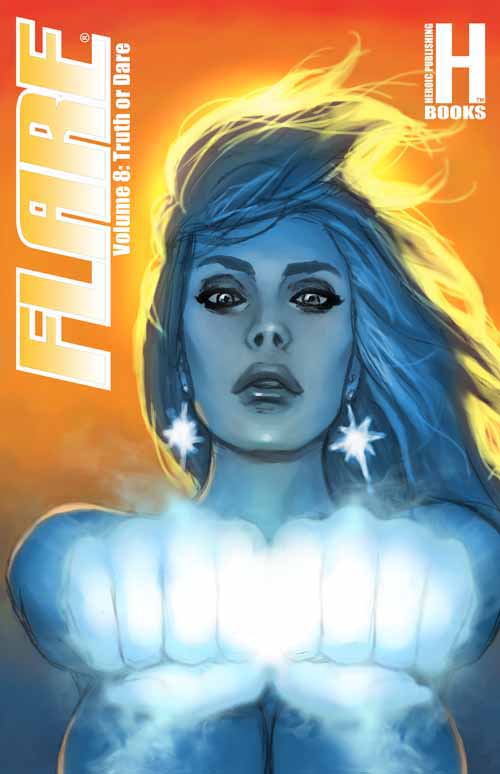 There's a brand-new FLARE trade paperback. FLARE Volume 8: Truth or Dare stars comics' shining goddess of light in a 160-page collection of her adventures from FLARE #36-40, and FLARE ADVENTURES #19 and #26. In particular, these adventures include stories by SEAN HARRINGTON, in which Flare teams up with the naughty BLACK ENCHANTRESS, and the notorious LANA THE SPY!

And there's more! Sean and I have talked about producing a special, expanded 10th ANNIVERSARY EDITION of that LANA/FLARE crossover. All we need to unlock that project are contributions totaling $5500. Sound good?

Then click on over to the Flare/Lana project page and add your contribution to the effort today.

17 September 2019

FLARE #48 IS HERE! We have copies of the newest issue of FLARE! Issue #48 features the 26-page conclusion to the origin of Flare. It's a tale of Flare's mother, the GOLDEN WARRIOR, by Dennis Mallonee and Delfin Barral. Order your copy from our back issue page today.

7 July 2019

THERE ARE NEW CHAMPIONS/REIKI CROSSOVER PAGES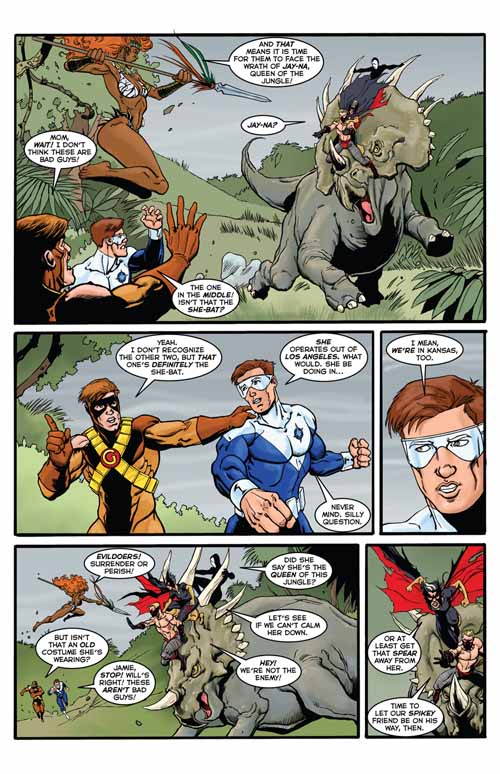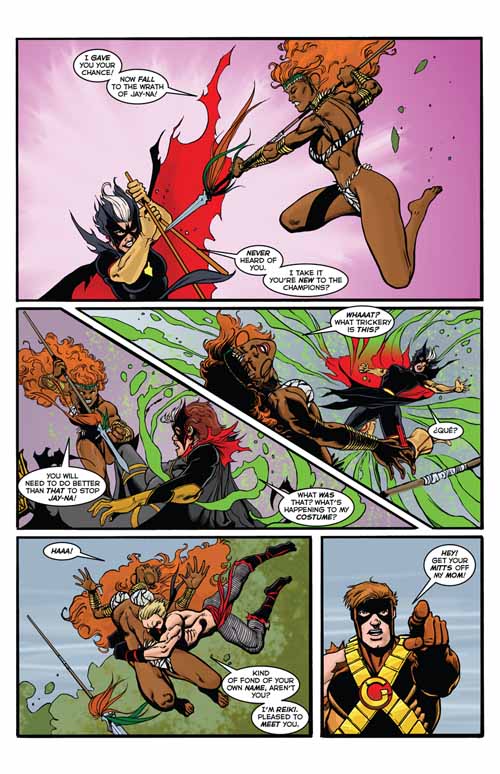 Henry Martinez has started working on the remaining pages of artwork for the Champions/Reiki crossover, the second part of which is scheduled to appear in Murcielaga She-Bat #18.

You can help support this project, and get yourself some great rewards by visiting the She-Bat project page.

There are also many other projects you can earn rewards by supporting. Check out them all!

30 June 2019

THANK YOU FOR SUPPORTING OUR FLARE #48 KICKSTARTER
Our FLARE #48 Kickstarter was a success! Our thanks to all of you who helped us cover the printing costs for this issue. Copies will be arriving soon, and will be going out (along with copies of WitchGirls Inc #13) to subscribers.

18 May 2019

COME TO COMIC CON REVOLUTION IN ONTARIO CALIFORNIA!
This weekend, May 18 and 19, we and a whole bunch of talented comic book creators will be at Comic Con Revolution at the Convention Center in Ontario California. Come to booth 931 and say hello!

20 April 2019

THANK YOU TO EVERYONE WHO SUPPORTED THE WITCHGIRLS INC #13 KICKSTARTER!
Thanks to all the fans who contributed to this project, our WitchGirls Inc #13 kickstarter was a success! And it's not too late for you to get your copy of this all-new, booklength, 24-page extravaganza by J. Adam Walters, starring the BLACK ENCHANTRESS in "Friday Freak-Out," told entirely in full-page splash panels. It seems there's WitchGirls fan-fic out there on the Internet! And the Sensational G-Girl's little brother Jimmy has found a few hilarious Black Enchantress stories written by somebody who knows a lot more about our wicked little WitchGirl than any mere fan really ought to. Just visit the WitchGirls project page and order your copy today. This was a fun one. Your help in bringing this project to fruition has been greatly appreciated.

10 April 2019

Liberty Comics #9 and Liberty Girl #5 are coming along. Steve Perrin has delivered the script for Chapter 3 of the Vanguard of Freedom story that will appear in Liberty Comics #9, and Henry Martinez has finished the artwork for the 28-page story that will appear in Liberty Girl #5. But there is still work to do, and we can definitely use your help and support. If you'd like to make a direct contribution to either of these projects, visit the Liberty Girl or Vanguard of Freedom project pages.

3 April 2019

THE MURCIELAGA SHE-BAT KICKSTARTER WAS A SUCCESS!
Our heartfelt thanks to everyone who contributed to the She-Bat kickstarter. Pledges were given that totaled much more than the amount we were looking for. And, as promised, the extra funds will be earmarked for production of the next issue of Daerick Gross Sr's Murcielaga She-Bat. If you'd like to see exactly what happened, you can see the details of the kickstarter here: www.kickstarter.com/projects/346915533/murcielaga-she-bat-bilingual-comics-by-daerick-gro You can also still contribute to future She-Bat projects by visiting the Murcielaga She-Bat project page and placing an order for any or all of the existing She-Bat comic books. We can definitely still use your help getting new issues into print. And you can help not only by placing an order for She-Bat comics, but by spreading the word about her on social media.

5 January 2019

Have you seen the trailer for the new movie "Glass"? Keep your eyes open, because about a minute into it, Flare and the Liberty Girl appear!



1 December 2018

Richard Boom has a new project he's looking for help with. It's all about unraveling mysteries and mummies. Check it out here.

17 November 2018

We'll be at the San Fernando Valley Comic Con tomorrow. Stop by and say hello!

31 October 2018

Check out Ulderico Fioretti's Jay-Na convention video! It's a hoot! facebook.com/holyexpo/videos/vb.1464167393636017/1762091557251730/?type=2&theater

18 September 2018

Hooray! Thanks to everyone who made a pledge to support it, our Vanguard of Freedom kickstarter was a success! Work now resumes on coloring and lettering the very first full-length Vanguard story. And as soon as we have a clear idea of when that will be completed, Liberty Comics #9 goes back onto our publishing schedule.

2 September 2018

One of the things we're trying to do in order to get our comic book production back on track is make use of crowd funding to help finance various comics. We have one going right now for Liberty Comics #9, featuring the very first full-length adventure of the legenday >VANGUARD OF FREEDOM. Anything you can do to spread the word about it would be greatly appreciated. You can find it here: https://www.kickstarter.com/projects/346915533/the-vanguard-of-freedom-the-golden-lives-again

I should mention that if you're a global subscriber who'd like to support this Kickstarter for the Vanguard, and you want to choose an autographed copy of Liberty Comics #9 as your reward, that won't count against your subscription.

19 August 2018

A heartfelt thank you to everyone who helped make our Kickstarter for CHAMPIONS #67 a successs. Both that issue and CHAMPIONS ADVENTURES #16 are back from our printer, and copies have now been sent out to subscribers and Kickstarter backers alike.

6 June 2018

And there's a new issue of CHAMPIONS ADVENTURES on tap. Champions Adventures #16 and Champions #67 is now both scheduled for a July release. If you can't wait to read them, digital editions are already available on DriveThruComics.com.

31 May 2018

It's been a difficult few months, but we do now have a new issue of CHAMPIONS on tap. Champions #67 is scheduled for a July release, and will feature two sensational G-GIRL adventures, plus a classic ICICLE tale!

11 April 2018

Jawbreakers Lost souls graphic novel busts-a-move!
Bravo!!!
This cat is doing what he wants to do and gittin it done despite the uphill battle... time for some more indie comics publishers to get down like that!
.....stay tuned!
And check him out:
https://www.indiegogo.com/projects/jawbreakers-lost-souls-graphic-novel/x/18710109#/
https://www.youtube.com/watch?v=21mhZdCGA6A

26 March 2018

JAY-NA IS HERE!

We have physical copies of the first issue of Ulderico Fioretti's Jay-Na the Jungle Queen: Numbelan! Place your order today!

18 February 2018

JAY-NA IS IN THE HOUSE!

The first issue of Ulderico Fioretti's Jay-Na the Jungle Queen: Numbelan is at the printer!

27 January 2018

One of our favorite Flare artists, Giancarlo Caracuzzo, has a new Kickstarter going. It's here: https://www.kickstarter.com/projects/376367117/simon-blood-volume-2 Take a look! We think it's worthy of support.

26 January 2018

Come to the Pasadena Comic Con this Sunday, January 28. The show starts at 9:00 and runs until 5:00. Dennis Mallonee and Mark Beachum will be there. And the Black Enchantress herself just might show up. More info at www.pasadenacomiccon.com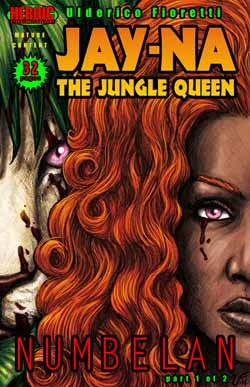 17 January 2018

JAY-NA IS #1 IN ITALY!

As of this moment, the digital edition of Ulderico Fioretti's Jay-Na the Jungle Queen #1 is the top superhero title on Kindle in Italy! Find out what the fuss is all about. Download your own copy of JAY-NA NUMBELAN BOOK ONE, either from Kindle or from DriveThruComics.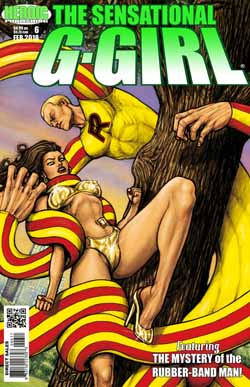 14 January 2018

SENSATIONAL G-GiRL #6 is now officially on sale! In the sixth issue of Sensational G-Girl, Billi Jayne meets the remarkably stretchy RUBBER-BAND MAN, by David Berge and James Webb. Also in this issue, "The Journal of Billi Jayne," by Dennis Mallonee and Gordon Purcell. And the cover is by Ulderico Fioretti.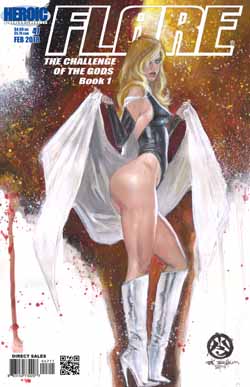 10 January 2018

FLARE #47 is now officially on sale! This is the issue that features Book One of the 13-part "Challenge of the Gods" storyline, in which Flare and the goddesses of Olympus compete to determine who will become queen of the gods. This epic adventure will cross over into multiple Heroic Publishing titles, including Black Enchantress, Champions, and Heroic Spotlight. Get in on it at the beginning and order your copy of FLARE #47 today.

26 December 2017

Another Christmas surprise! PAUL ABRAMS has just offered two new rewards for our Giant/Nemesis Girl/Fantastic Girl kickstarter. He's getting ready to do two full-color 11" x 17" acrylic paintings, one each of the Nemesis Girl and the Fantastic Girl posing naughtily.

This is the Kickstarter for Book Two of the "Challenge of the Gods" storyline. Check it out here:

https://www.kickstarter.com/projects/346915533/challenge-of-the-gods-book-2-giant-and-the-fantast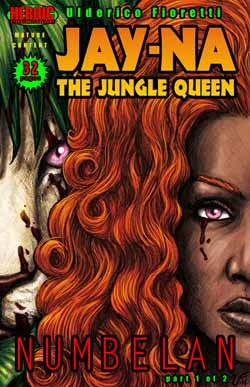 25 December 2017

We have a wonderful Christmas surprise for you! The digital edition of Ulderico Fioretti's Jay-Na the Jungle Queen: Numbelan Book One is now available in both English and Italian on the DriveThruComics.com web site.

http://www.drivethrucomics.com/product/229662/JayNa-the-Jungle-Queen-Numbelan-Book-One?cPath=614_29332

http://www.drivethrucomics.com/product/229670/JayNa-the-Jungle-Queen-Numbelan-Book-One-Italian?cPath=614_29332

Numbelan, the legendary kingdom of animals, is about to disappear by the hand of the terrible Hunter, who knows of an ancient legend which states that the blood of these creatures grants enormous power and the ability to transcend death. It is the Hunter's greed for immortality that that drives him.

Now, only two magical beasts remain: the huge lion-king Gayde and his queen Jay-Na, who are helped by the beautiful shaman Zoraya and her faithful disciple Basu.

These factions are at war, and everything has become uncertain, because the Hunter's depredations have opened the Oblivion Door in Numbelan, and the King of Chaos has risen.

Out of the pages of League of Champions, and into her own magazine, Jay-Na the Jungle Queen stars in Book 1 of a 2-part adventure by Ulderico Fioretti that reveals her true origin in the mystical land of Numbelan.

11 December 2017

Heartfelt thanks to everyone who made the FLARE and G-GIRL Kickstarters a success. Copies of both Flare #47 and Sensational G-Girl #6 were received from our printer much earlier than expected, which enabled us to start sending out rewards to supporters right away. The Flare rewards are complete. The G-Girl rewards are almost complete, with only a few pieces of original artwork remaining to be delivered. Please keep your eyes open. Kickstarters for the Black Enchantress and Chapter Two of "The Challenge of the Gods" will be coming soon.

25 November 2017

Only two days left on Billi Jayne's Kickstarter! There are still a bunch of great rewards to choose from, including (as of this moment) one remaining copy of the limited edition version of Sensational G-Girl #1. So even if you can't make a pledge, please spread the word about the G-Girl Kickstarter far and wide on social media.

21 November 2017

Thanks to all her supporters on Kickstarter, FLARE #47 is at the printer! We should have copies ready to go out in time for Christmas. And with only a few days to go on the G-Girl Kickstarter, any help Billi Jayne's fans can give spreading the word on social media will be greatly appreciated.

11 November 2017

Add LUIS RIVERA to the list of G-Girl artists offering original art as rewards for the G-Girl Kickstarter. Luis has created four original G-Girl drawings on 7" x 9" Bristol board, available on a first-pledged first-choice basis at the $60 level.

9 November 2017

HENRY MARTINEZ has just offered two new reward options for the G-Girl Kickstarter. At the $40 level, an original ACEO drawing on 2.5" x 3.5" card. At the $150 dollar level a full-sized drawing on 11" x 17" comic book art board. It's a wonderful opportunity to fans of the G-Girl to get some original G-Girl art!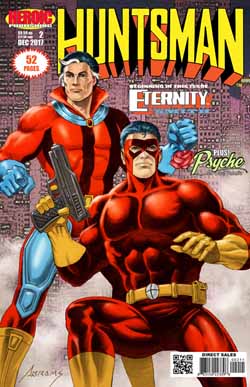 7 November 2017

The second super-sized 52-page issue of THE HUNTSMAN is now on sale. This issue features the classic conclusion to the three-part "Origin of the Huntsman," PLUS for the first time in color part one of the Huntsman/Psyche crossover "The Case of the Living Dead Man," PLUS a classic tale of the time-traveling hero ETERNITY SMITH.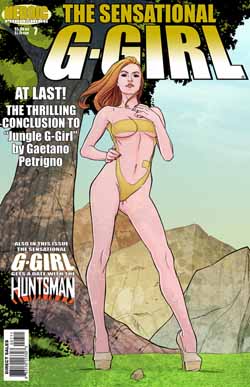 6 November 2017

Wow! This is so cool! On the heels of the Flare KickStarter, we set up one for our Sensational G-Girl, and it reached its goal on DAY ONE, even before we could start telling everyone about it. Now, with that totally unexpected early success under our belt, we're looking toward reaching a stretch goal for Sensational G-Girl #7. You can see a cover mockup for that issue just to the right. And Billi Jayne can definitely use your help with this. So even if you can't make a pledge, please spread the word far and wide on social media. The Sensational G-Girl Kickstarter is here: www.kickstarter.com/projects/346915533/here-comes-the-sensational-g-girl-teenaged-tg-hero


BLOG ARCHIVE

NOW ON SALE


COMING SOON


Support us on Patreon, and get exclusive access to the
Heroic Preview Page!
---
THE HEROIC PUBLISHING
MISSION STATEMENT
Heroic Publishing is all about
what it takes to be a hero.

Too often in recent years, other comic book companies have not been presenting superheroes as heroes. Too often, their characters have been treated merely as interesting people with peculiar abilities. While there may be some merit in taking that approach, it's not what Heroic Publishing is all about.

For all their flaws, the characters we focus on at Heroic Publishing are (usually) trying their best to live up to the heroic ideal. They may fail, they may suffer setbacks, there may be personal issues that deflect them from the goal. But they try. They strive. And when they succeed, there are wonders to behold.

Our goal at Heroic Publishing is to present entertaining adventures featuring characters who truly are superheroes.

--Dennis Mallonee

---
THIS WEEK ON